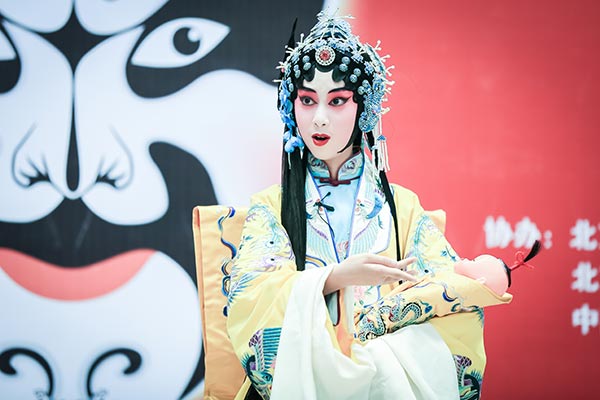 A student performs at China's first national Peking Opera competition for overseas college students in Beijing. Photo provided to China Daily
As dozens of foreign students took their final curtain calls in front of an excited audience at Beijing Foreign Studies University, Sun Ping, a Peking Opera veteran in her early 50s, was overcome with excitement.
"Even the biggest stars of Peking Opera don't get cheered for every line they sing," she says. "However, these students almost do. It's the power of cultural resonance."
The performance was China's first national Peking Opera competition for overseas college students. Before the competition, the participants had no previous experience.
"They can speak some Chinese, but that's all," says Sun, who is the executive director of the Chinese Operas Studies Center at Renmin University of China.
She is amazed that the students are able to present a wonderful show after only 14 days' of intense training. "After the initial excitement and curiosity, you can't imagine how hardworking they have to be to practice something they barely know."
She believes foreign students can be ambassadors for Chinese culture. Her proposal to add selective Peking Opera courses into the syllabus for overseas students has recently been approved by several major universities in Beijing.
The competition, Sun says, is expected to become an annual event and grow in size.
"Peking Opera is an ideal summary of traditional Chinese aesthetics, values and ethics, and is able to erase misunderstandings and explain Chinese society to the world. It will thus become an efficient channel of diplomacy," says Sun, who is also a member of the Chinese People's Political Consultative Conference.