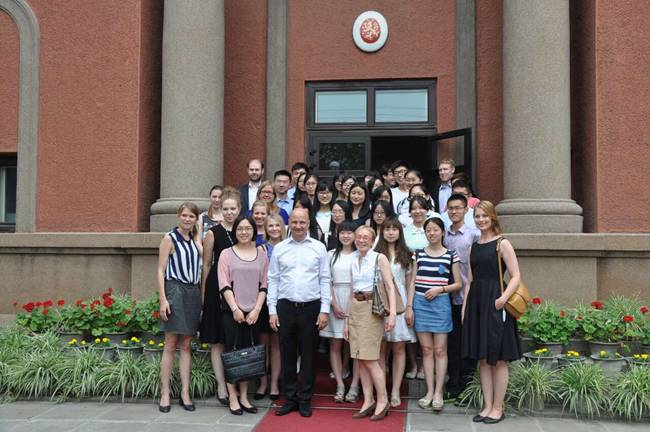 Students from Beijing Foreign Studies University with diplomats at the embassy. [Photo provided by Beijing Foreign Studies University Students Union]
To promote Finnish culture and celebrate Children's Day, students from Beijing Foreign Studies University and members of the Young Cultural Ambassadors program took part in an Open Day at the Embassy of Finland in Beijing on Thursday.
Jari Gustafsson, Finnish ambassador to China, said this year marks the 65th anniversary of the Sino-Finnish relationship and, as Finland had become a member of the Asian Infrastructure Investment Bank, there would be more cooperation from high-level visits to folk exchanges.
Press and Cultural Counselor Mikko Puustinen said Helsinki, capital of Finland, is the sister city of Beijing and that hundreds of Chinese artists will attend the Helsinki Festival, the biggest arts festival in the Nordic countries, in August. Both traditional and modern Chinese culture will be displayed with Finnish artists also joining in some programs.
Helsinki will host its first overall cultural festival in Beijing in May next year.
The ambassador invited children to visit his residence and they experienced his personal sauna, tasted Finnish cookies and presented self-made gifts.
To celebrate the 40th anniversary of the establishment of Sino-EU diplomatic relations, a delegation from the European Union to China and participating embassies of EU member states in Beijing are holding a series of events called "EU Open Days for Young People".
Chinese students and foreigners are invited to EU embassies to take part in a variety of events such as watching movies, tasting western food and attending lectures between April and this month.