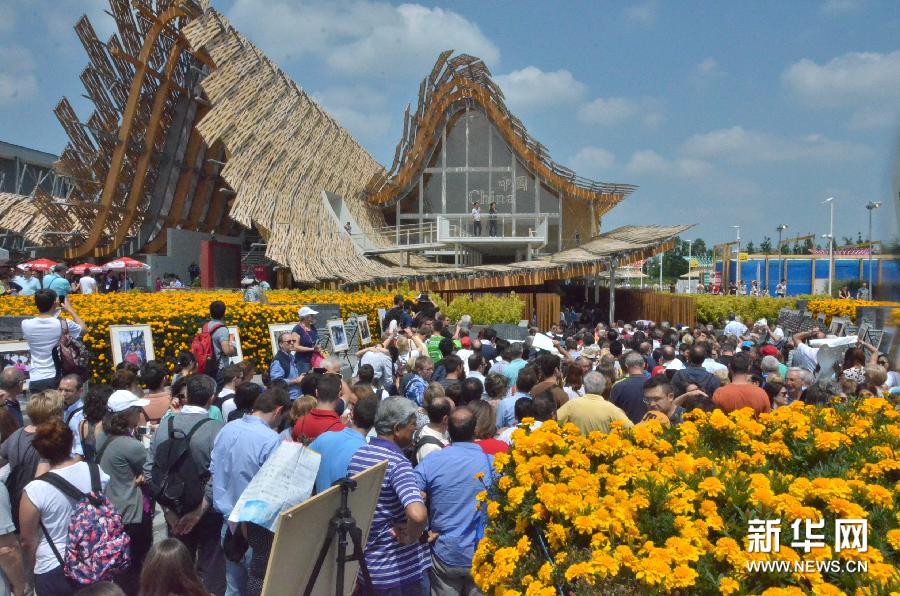 China Pavilion is full of visitors since the openning of Beijing Week.[Photo/Xinhua]
 "I had already visited the China Pavilion more than one time in the past days but I can say that today I realized the magnificence of capital Beijing," Italian visitor of the world exposition in Italy's Milan, Mauro Magni, told Xinhua on Saturday.
Magni talked to Xinhua after spectating the lion dance, Peking opera, acrobatics and dances, and Chinese ballet drama Marco Polo animating the China Pavilion and other venues at the Expo Milano 2015 site.
Magni, an architect, added he was especially impressed by the costumes of ballet drama Marco Polo, the story of a modern young Italian who becomes traveler Marco Polo in his dream and comes to ancient China, staged in the expo's auditorium.
The story shows that love has no boundaries, and how peace and harmony have been the pursuit of China since ancient times. "When Italy was in its Middle Ages, China had a flourishing civilization that was made known here thanks to Marco Polo," Magni noted.
Saturday's performances marked the opening of the Beijing Week, five days of activities to present the deep-rooted culture and avant-garde look of the Chinese capital to visitors of the Italian world exposition.
"When we were asked to take part in this event, it was a great joy for us," Cinzia Zanon, artistic director of Gioventu In Cantata children chorus, which performed Chinese classic oldies, told Xinhua. "In this way our young artists could make acquainted with such an important culture," she said.
"Beautiful Beijing Shining at the Expo" is the theme of the Beijing Week, Secretary-General of Beijing Municipal Government Li Wei said in his speech at the opening ceremony in the presence of local authorities and international guests.
As a city of over 3,000 years and a capital of 862 years, Beijing is endowed with rich traditions which interact brilliantly with its modern vitality, Li said.
From Saturday to Wednesday, the landscape garden outside the China Pavilion as well as other venues at the Expo site will be the stage for presentations of Beijing's agriculture, tourism, fashion and other industries through artistic performances, picture shows and video play.
The Beijing Week is also the occasion for the first overseas presentation of the Beijing International Horticultural Exposition 2019, which will be held in Beijing's Yanqing county in 2019, as well as for promotion of Beijing's candidacy for 2022 Winter Olympic Games.
Stefano Gatti, General Manager Participants and Director General Pavilion of Italy at Expo Milano 2015, said the Beijing Week is a valuable step to strengthen bilateral ties. With one national pavilion and two corporate pavilions, he stressed, China is a "fundamental partner" of Expo Milano 2015.
"Visitors are coming very numerous to our Expo and they want to know about China. Italians obviously know about China's economic power, but still have to learn a lot about the magnificence that the Beijing Week is showing here," Gatti said.