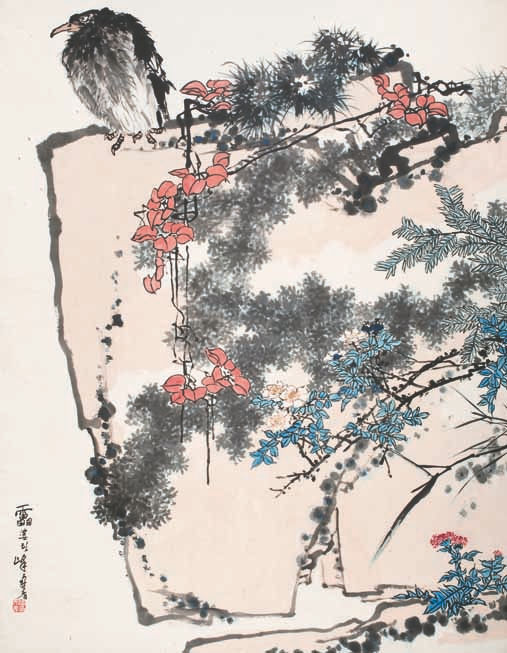 Pan Tianshou's Eagle, Rock and Flora sold for 279 million yuan. [Photo/ China Guardian]
The first round of spring auction season in Beijing ended last week, but it failed to create much spring in the art market. Although two pieces of Chinese painting fetched more than 100 million yuan, the decline in trading volume and sale rate showed a downturn this year.
In the "Grand View: Chinese Painting Highlight" session at China Guardian 2015 spring auctions, Pan Tianshou's representative work Eagle, Rock and Flora hit a record auction price of 279 million yuan, while Li Keran's masterwork Jinggang Mountain fetched 126.5 million yuan, an unexpected high in recent years. However, the trading volume fells to 1.87 billion yuan from 2.22 billion yuan in the same period the year before.
The Huangchen 2015 Spring Auctions, which recorded 42.5 million yuan in total sales, experienced the same. The section number went down to 5 from 12 compared to last year.
According to expert Shao Jianwu, the art market did not attract much excitement this year due to the booming stock market and the persistent problems of forgery and fake deals. The two pieces of Chinese painting notched up high price this spring due to their own value not due to a revival in the market.
"The successful transaction of two works with a hammer price of more than 100 million yuan once again confirms that valuable and rare works of high quality always earn the long-lasting high price. Chinese painting and calligraphy is still the pillar of the market. However, the overall sales rate has dropped slightly, which reflects the demand for the ordinary auction goods has weakened," said the president of China Guardian's Hu Yanyan.
"Besides, the entry of new buyers also makes certain changes to the direction of purchasing. In a word, the overall market trend is very unpredictable. Although China Guardian 2015 Spring Auctions has achieved remarkable results, it does not mean that the market has walked out of the predicament. We still have to wait for the big economic boom to invigorate the art market."
Even so, the hot pursuit of some special items appeared this spring. A special session of China Guardian Spring Auctions titled "Fine Gilt—Bronze Buddhist Images" achieved a great deal with total sales volume of 41.89 million yuan and 92 percent sale rate. The 5th Shamar Rinpoche Statue from 16-17th century of Tibet was sold for 5.06 million yuan. The Beijing Chengxuan Auctions featured almost 2,800 items of coins and stamps in three sessions with good sale rate. The Huachen Auctions also set a special session of photographs under the condition of large-scale decline of auction sessions.