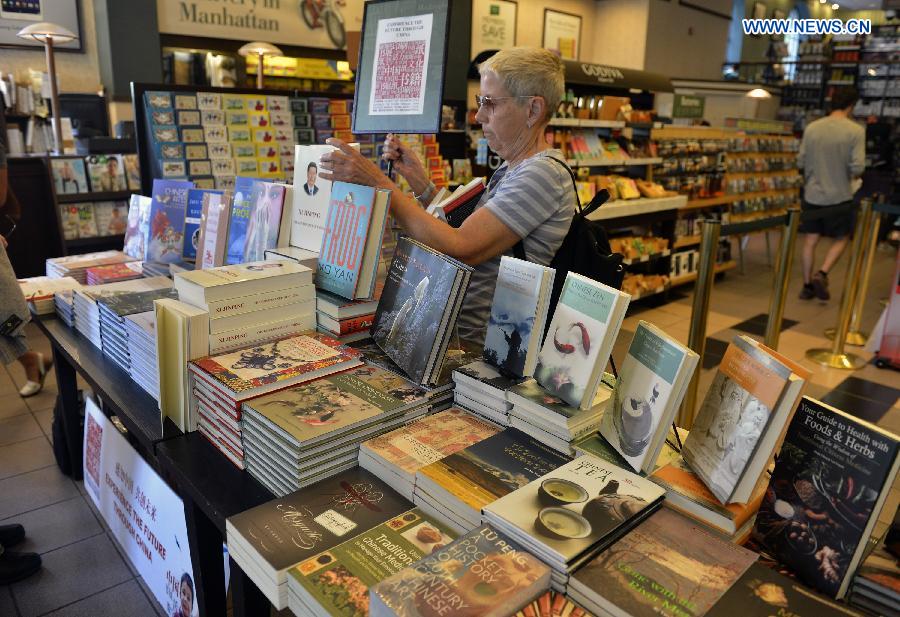 A reader chooses books at the Chinese book zone of Barnes & Noble on the Upper West Side of Manhattan, New York, the United States, on May 26, 2015. A Chinese book zone was launched for the first time in Barnes & Noble on the Upper West Side of Manhattan, New York, to sell books on China in English.[Photo/Xinhua]
A frequent visitor of the quaint Barnes & Noble outlet located in Upper West Manhattan, Patricia Mattoon was kinda used to the "all the same" internal layout of the decades-old bookstore.
But this week something new caught her attention right upon her entry: a long table piled up with dozens of publications from or about China, ranging from Nobel Laureate Mo Yan's novel to books on Chinese acupuncture, meditation, and the art of tea and embroidery.
"This offers some fresh feeling for old customers," said Mattoon, a real estate agent in her 50s living in the same block as the 82nd Street & Broadway store.
The "special section" launched for a wide collection of China- themed books by the century-old largest US book retailer, on the sidelines of BookExpo America (BEA) 2015 which kicks off Wednesday, is the first of its kind ever seen in any major Western countries.
"In honor of China at the Book Expo, we are happy to create a table of titles downstairs on the main floor and host events with Chinese authors at our store during BookExpo America," Paul Trinidad, the bookstore's community business development manager, told Xinhua Tuesday.
China, an emerging power in the international publishing industry, has been invited as the Guest of Honor for BEA 2015's Global Market Forum program. The country is expected to host nearly 130 special events in New York City, dubbed the "publishing and cultural capital of the world," during the three-day book fair, the largest in North America.