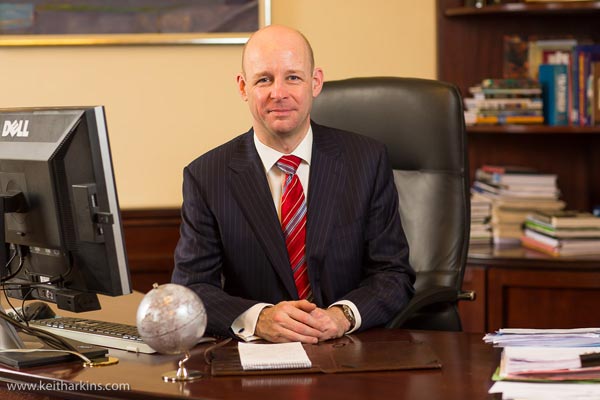 Philip Nolan, president of Maynooth University in Ireland. [Photo provided to chinadaily.com.cn]
Ireland is often dwarfed by its neighbor on the other side of the Irish Sea in terms of providing higher education abroad for the Chinese. The UK is the second largest destination only after the US for Chinese students to study overseas.
A small country with less than five million people, Ireland somehow has the highest participation rate of higher education among the European countries.
We talked to Philip Nolan, president of the National University of Ireland Maynooth, known as Maynooth University, on what the country's higher education has to offer to international students.
Can you briefly introduce the country's higher education institutions to us?
There are seven universities and 14 institutes of technology. All the seven universities are ranked in the top 600 in the world. The whole system enrolls about a quarter million students, and 110,000 of them are in universities. That's a lot of students for a country of less than five million people.
We know that Ireland is also regarded as the "Silicon Valley of Europe". What are the strongest majors in Irish institutions?
Ireland is very strong in information communication technology (ICT). All of the US and global major companies in ICT and pharmaceuticals have a base in Ireland. Science and engineering are of course very strong. But those companies need a very wide variety of skills. So we have a very broad strength in including business, law and social sciences.
The UK is one of biggest destinations for Chinese students to receive higher education overseas. What are the strong points of Ireland compared with the UK?
The quality of Irish universities is very strong. All the seven Irish universities are as good as the very good UK universities. Not all the UK universities are strong. Our degrees are very well recognized internationally. You can go anywhere in the world with an Irish degree and they will know it is a good degree. We have very good relationships with both the US and European Union, so Ireland is very well linked to both of the markets in terms of job opportunities.
What kinds of areas are you looking to attract Chinese students?
There are quite a wide range of areas we would like to attract Chinese students, from information communication technology, biological and chemical sciences, social sciences to business and law.
What English level does it require for Chinese applicants?
The IELTS score should be between 6 and 6.5 for undergraduate study and 6.5 for postgraduate study. We also run English language programs, so if you are close to the standard for English, you can use that to reach the standard requirement. The fundamental message is that, we are very welcoming.
What's the average cost each year for international students to study in Ireland?
1000 -1200 Euros ($1,090-1,300) per month for the living cost. The tuition fee is typically 9,000 to 12,000 Euros a year without scholarships. We do have a range of scholarships.
Are overseas students allowed to take part-time jobs while studying in Ireland?
Yes. Up to 20 hours a week.
How long can students stay in the country to look for a job after graduation?
At the moment, one year. The Irish government is very supportive of having international students working in Ireland.
What's the percentage of Chinese students in your university?
Quite small. We have 10,500 students and about 1,000 of them are international students, but from 110 countries. We only have 200 or so Chinese students, about 2 percent. We would like to see more Chinese students while keeping the diversity.
What's your general impression to Chinese students?
Very hardworking. They are also very open and gain a lot from coming to our country. Our students gain a lot from interacting with Chinese students as well.
What's your suggestion to Chinese students who are preparing to study abroad?
Be considerate, do your search and ask yourself questions. What are the countries you will like? What are the universities you will like? Will they offer you the program that you want? Pick the ones you want to go to, make a list, and seek advice from the international offices of the universities. The most important thing is to prepare, and figure out where you want to go.