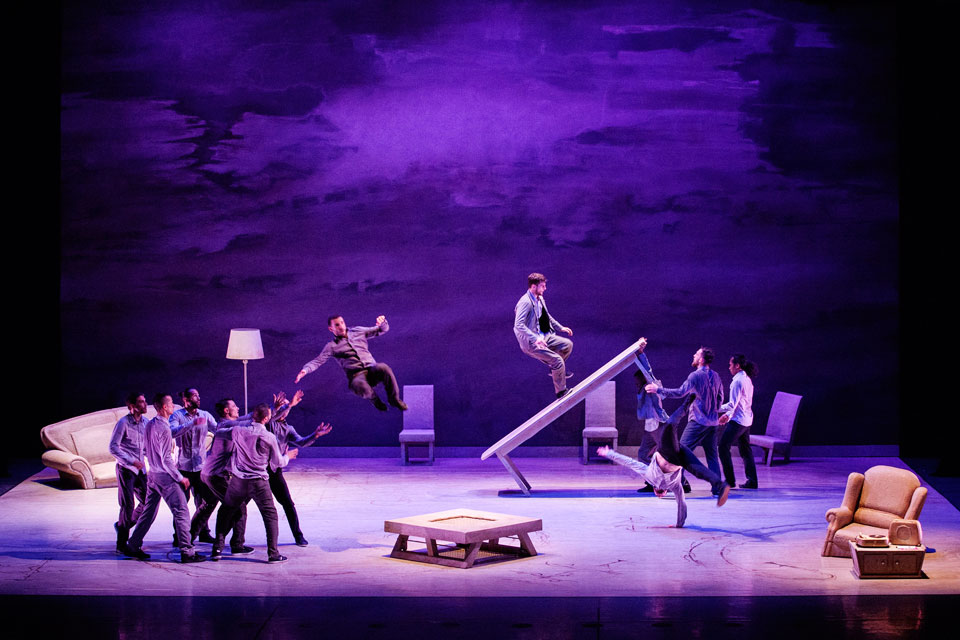 The Roots was staged at the People's Liberation Army Opera House on May 23.[Photo/ pla-theater.com]
Modern hip-hop dance show The Roots was performed as part of the 15th Meet in Beijing Arts Festival (April 23 to May 30) at the People's Liberation Army Opera House on May 23.
The show was choreographed by Kader Attou, director of the prestigious Centre Chorégraphique National de La Rochelle and a famous hip-hop dancer as well as choreographer. He learnt dance and choreography all by himself, and founded his first hip-hop dance group Compagnie Accrorap in 1989.
The two-hour dance show mixed hip-hop dance, modern dance, acrobatics and Parkour. The advanced dance techniques and brilliant choreography greatly impressed the audience. The dancers danced to a mixture of electronic music, classical music by Brahms as well as Beethoven, and folk music from France, India and Turkey.
Attou was quite confident with his work. "The Roots is a human adventure, a journey enacted by 11 exceptional hip-hop dancers. Our performance will not let you down," he told dance lovers and the Chinese media one day before the show.
As the case stands, The Roots was highly praised by the audience. The dancers won a standing ovation when they finished.
"The response from the audience made us really happy. It meant that Beijing audiences accepted our work. So we could not help ourselves from taking selfies on the stage with the backdrop of hundreds of clapping people," said Attou.
On May 23, Attou and his colleagues will give their second show in China at Daning Theater in Shanghai. The following week, they will perform at Guangzhou Opera House in Guangzhou, the capital of Guangdong Province.