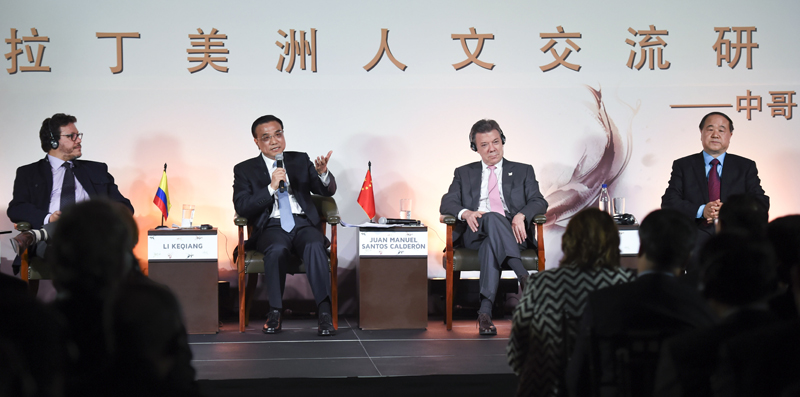 Premier Li Keqiang speaks at the seminar. [Photo/xinhua]
During Li Keqiang's four-nation Latin American tour, the premier attended a seminar on China-Latin America cultural and humanities exchanges together with Colombian President Juan Manuel Santos.
Columbia is the home of Gabriel Garcia Marquez, a Nobel laureate and author of the classic novel One Hundred Years of Solitude. The book was first published in Spanish in 1967 and subsequently translated into 37 languages, becoming popular in China since the 1980s.
Literary representatives spoke highly of the role literature plays in promoting cultural ties. According to Tie Ning, chairwoman of the China Writers Association, many Chinese, especially in literary circles, are fond of Latin American countries because of the popularity of García Márquez's works.
"After Garcia Marquez was honored with a Nobel Prize in 1982 the translated work of his classic novel One Hundred Years of Solitude flooded the Chinese market. It exerted significant influence on both Chinese ordinary readers and Chinese writers. At a time when China was opening its doors to the outside world, Chinese literary circles and Chinese writers were eager to get the literary essence of other countries, including Latin America," Tie said.
Mo Yan, a Nobel literature laureate in 2012, said he was one of those writers influenced by the magic realism of Garcia Marquez's works.
"As a writer, I'll talk about the inspirations I got from reading Latin American literature, and how these ideas influenced me in the creation of my own literature," he said.