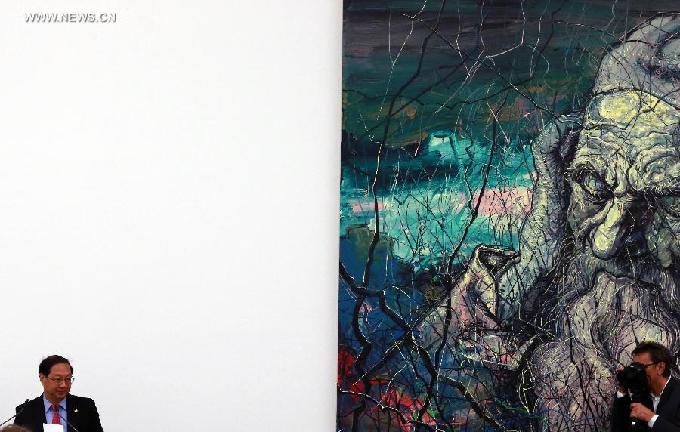 Shi Mingde, China's ambassador to Germany, at the opening ceremony, May 13, 2015. [Photo/Xinhua]
"After 30 years of reform and opening up, politics, the economy and social life in China have changed a lot. It brought growth and a driving force for development for Chinese contemporary artists. From their works German people may know more about modern China,"said Shi.
Visitors can see Chinese painting, photography, calligraphy, ink drawing, sculpture, installation art and video at the exhibition.
Walter Smerling, the German curator of CHINA 8 and director of the Museum Küeppersmüehle for Modern Art, told German media that he had studied Chinese contemporary art for more than 20 years and found that Chinese artists had formed their own artistic language which he wanted to show through the exhibition.
"CHINA 8 should be a tour of art in the region, instead of an exhibition. By visiting a series of museums, people can experience the variety of Chinese art," he said.
"Go Global means to go to the mainstream platform in the world, instead of the small fringe group. The most important way for Chinese art to go global is to set up cooperation with famous art museums abroad," said Fan Di'an, the Chinese curator of CHINA 8 as well as supervisor of the China Central Academy of Fine Arts.