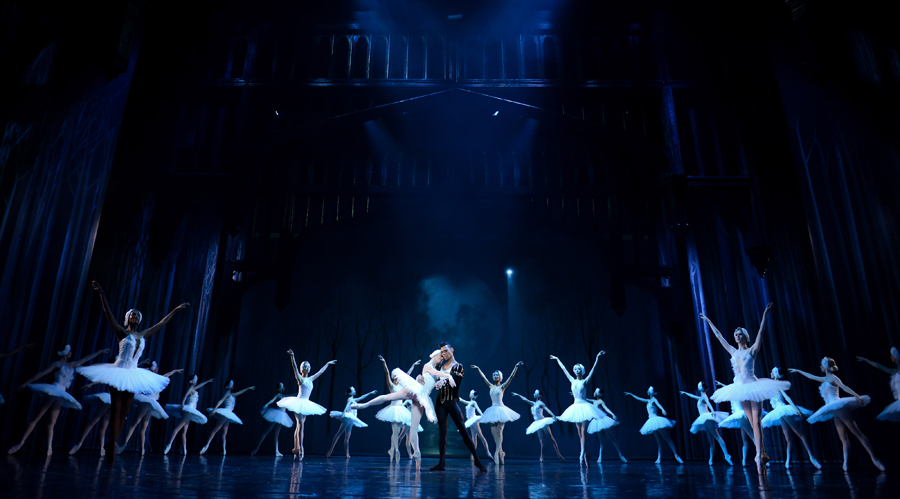 Two Chinese dancers perform in the leading roles of Odette-Odile and the Prince. [Photo/Xinhua]
After 30 days, 22 shows, three cities in two countries, 21 Chinese ballet dancers from Liaoning Ballet successfully finished their trip to Africa.
As one of the important part of Year of China, Liaoning Ballet's collaboration with Joburg Ballet, the biggest ballet dance group in South Africa, as well as guest dancers from Cuba and the United States brought together 80 dancers for Swan Lake. Their 21 performances in Johannesburg and Bloemfontein created a box office record for Joburg Ballet.
In addition to that, Liaoning Ballet appeared on the stage in Harare, the capital of Zimbabwe, to mark the 35th anniversary of the establishment of diplomatic relations between China and Zimbabwe and became the first Chinese dance group to perform in the country.
All the 21 Chinese ballet dancers performed in principal and soloist roles, with two of them performing the leading roles of Odette-Odile and the Prince. Though there were only five days for the Chinese dancers to rehearse with their foreign counterparts in South Africa, they overcame the difficulty as well as the jet lag problem, and made a resounding success at the first-night performance on April 25, 2015.
"China is now producing superb classical dancers, among the best in the world," said Joburg Ballet's artistic director Iain MacDonald.
During their performances in South Africa, Chinese dancers received good care from the host. Dirk Badenhorst, Chief Executive Officer, arranged special bus and Chinese food for the dancers, as well as presented them T-shirts with the logo of the both ballet group.