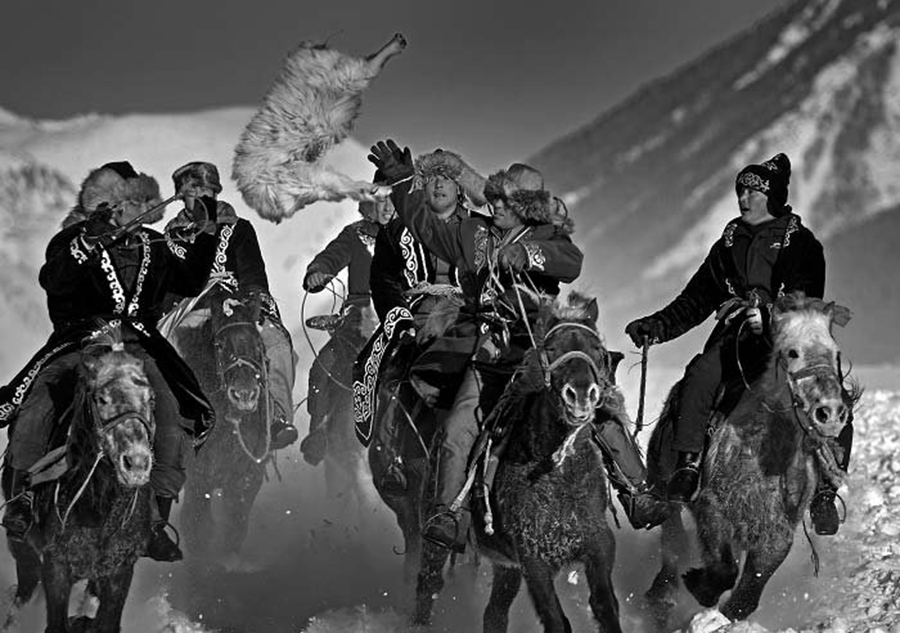 The Kazak men fight for a sheep in a competition, photo taken by Luo Pinxi in 2009. [Photo/ China Photographers Association]
China is a large united multi-ethnic state. Besides Han, which takes up over 90% of China's population, there are 55 ethnic groups in this big country, with their costumes, festivals and customs.
These numerous groups share China's vast lands but at the same time many live in their individual communities. The relationships between them have been formed over many years. Now let's have a look at some old photos of the 56 ethnic groups and learn about their culture.
Kazak ethnic group
The Kazak people inhabit Gansu, Xinjiang and Qinghai. Only a few of them have settled down and are working in agriculture with most living a nomadic life as the alternation of seasons. They love music so much that nearly everyone is good at singing and dancing. The musical instrument, the Dongbula, is famous for its exotic timber. During festivals or other times of entertainment, lively girls and boys will sing with the Dongbula, and hold many activities. Horse-riding, wrestling, sheep-snatching and lady-chasing are their favorite.