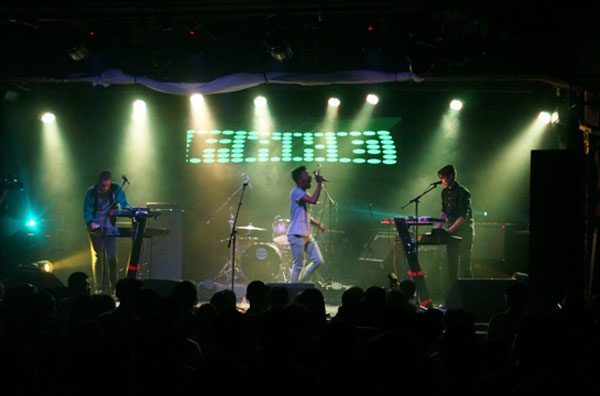 Clarens Perform at Yugongyishan on April 30. [Photo by Ruan Fan/For chinadaily.com.cn]
Calm. Nice. Smart. Arrogant. Imperative. Naughty. Curious. Blonde. What describes these words? The answer is, Clarens and Juveniles, two bands from France. Describing themselves as such while they are 10-year-old kids in an interview with us on Thursday, these boys, now in their 20s and 30s, carry within themselves these traits to make their own music.
The different tastes of youth are captured through their creative combination of electric keyboards and bass, and their sometimes contemplative, sometimes jubilant voices. In their music, encounters could simply drown themselves in the world of fantasy they've created.
At their first show in Yugongyishan bar at Beijing on April 30, they set the night alight with their spontaneous performance. Their smoothing beat and psychedelic voice helps the audience connect to the shiny aching bits of memories of their youth.
On their second tour to China, they said they wanted to explore more about the people, the food, and the culture here. From April 30th to May 17 they will be touring in several cities in China, including Shanghai, Jinan, Xi'an and Chengdu. Also, they will be cooperating with Chinese band Nova Heart, remixing songs and producing fancy dance music.
Below are excerpts from the interview.