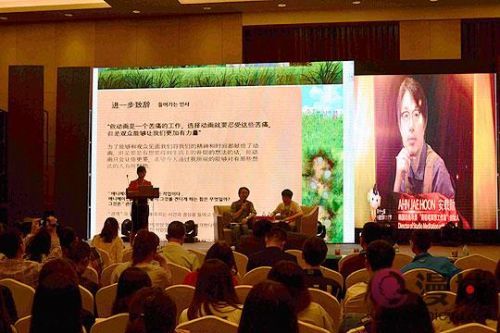 Ahn Jae Hoon made a speech about his animation creation experience on Wednesday in Hangzhou.[Photo from internet] 
"I really enjoy reading Chinese writers' books, like Lu Xun and Yu Hua. I hope to adapt them for my animations in future." Korean master Ahn Jae Hoon, who founded animation workshop STUDIO Meditation with a Pencil, told journalists during the 11th China International Cartoon and Animation Festival in Hangzhou on Wednesday.
Many Korean celebrities from the animation industry attended the festival, and exchanged experiences with Chinese colleagues. Ahn was one of them and his love for Chinese culture, especially traditional Chinese stories, was apparent.
"I cooperate with Chinese colleagues right now. I'm thinking about adapting Liaozhai Zhiyi (Strange Tales from a Chinese Studio) and the Legend of the White Snake for the screen. I do hope more Chinese audience will enjoy my works. " he said.
Ahn said that both China and Korea shared a traditional animation producing period and had entered the 3D period.
"Because of this, we both pay too much attention to animation techniques. In order to prevent over-commercialization, we need to think of the story itself, as well as how to tell it in a better way." he said.
Ahn believes Chinese calligraphy and ink wash drawing should become the special feature of Chinese animation. "In the field of Chinese animation, most have abandoned the ancient calligraphy and ink wash drawing. I felt really lamentably for that." he said.