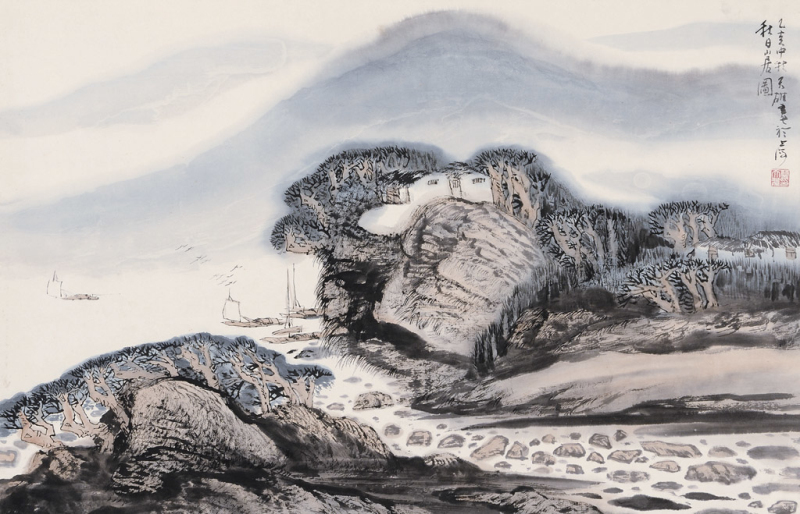 Cai Tianxiong's painting.[Photo from internet]
AT the age of 69, artist Cai Tianxiong is having his first solo-exhibition at the Academy of Chinese Traditional Paintings in Shanghai.
The show, which runs through May 10, features dozens of paintings created by Cai over the past several decades.
Born in 1944 in Shanghai, Cai is a long-time member of the academy. His paintings caught the attention of the art world back in the 1980s, yet the artist has long kept a low-profile in front of the public.
The highlight of the exhibition is a seven-by-two meter canvas depicting Yellow Mountain in east China's Anhui Province.
"I have been to Yellow Mountain 10 times," says Cai, who spent several months creating the show's centerpiece.
"In my view, Yellow Mountain is the most splendid mountain in the world and has amazing different scenes in different seasons."
Cai travels frequently between China and the US, where his family moved in 1996. He still maintains an apartment/studio in downtown Shanghai.
"Most of my works at this exhibition were completed in Los Angeles," he explains, adding, "I have plenty of time there to think and create the landscapes in my heart."
Cai's finally structured paintings capture his striking scenes down to the smallest detail. Traditional symbols, language and modern spacing are blended into lively and unique tableaux.
Landscape paintings featuring mountains and rivers have long been a staple of Chinese visual culture. Throughout successive dynasties and into the modern era, new masters have emerged with each generation to further cultivate and support this time-honored genre.
But despite the weight of tradition, Cai realized in the 1980s that traditional ink-wash paintings needed to be modernized.
For example, in "The Moon" Cai employs modern techniques, such as innovative use of negative space, to represent the moon flanked by pine trees. Negative space is also used in objects in the foreground to represent a silence and vacant ambience.