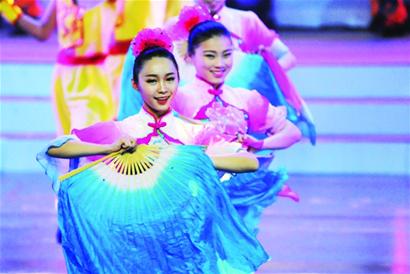 [Photo/chinanews.com]
The 2015 Year of East Asia City of Culture opened on Mar 30 in Qingdao, a coastal city in Shandong province that was designated as a "2015 Culture City of East Asia". It joined Japan's Niigata and South Korea's Cheongju at the opening ceremony, bringing a feast of oriental culture to 1,600 people from the three countries.
Delegations from Korea's Gwangju and Cheongju and Japan's Niigata and Yokohama took part in the event.
During the ceremony, Butterfly Lovers, an orchestral adaptation of an ancient love legend, was played by Lv Siqing, a famous violinist who comes from Qingdao. It showed an admiration of love, appreciation of life and the charm of Qingdao as a city of music. Jiaozhou Yangko Meet Sunny Days Again, presented the regional culture of Qingdao through its cheerful music and enthusiastic dance. Jiaozhou Yangko is a traditional folk dance and is popularized in the area of Jiaozhou in the south of Shandong province.Japanese artists also performed a Geta dance and drum dance during the ceremony.
Through this year, a slew of programs will be held to attract visitors from home and abroad, especially from East Asian countries. These programs will include The 7th Trilateral Culture Ministers' Meeting among China, South Korea and Japan, an art festival, cultural and education forum and a closing ceremony.
Qingdao will also host a series of cultural exchange activities with Korea and Japan, such as art festivals, talent competitions and cultural exhibitions, to show the city's cultural features to the world.