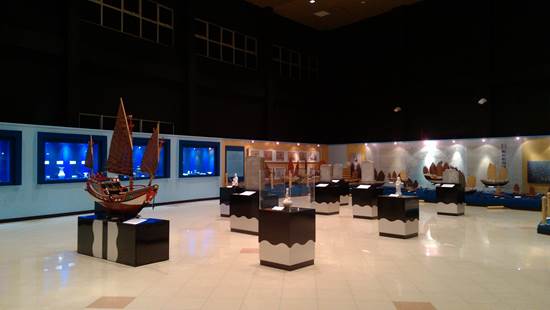 China's Quanzhou "Maritime Silk Road" exhibition opened in Brunei Darussalm on March 23, 2015. [Photo/www.qzhjg.com]
China's Quanzhou "Maritime Silk Road" exhibition opened here in Brunei Darussalm on Monday.
This exhibition is organized jointly by the Quanzhou Maritime Museum and the Brunei Museums Department under the Ministry of Culture, Youth and Sports. It is a showcase of the linkage between China and Southeast Asia including Brunei since ancient times.
Located in northwest of Borneo, Brunei Darussalam is known to be a land of beauty and mystery. Historically, China and Brunei have enjoyed a close relationship. It is believed by some scholars that during the period of the West Han Dynasty (202 BC-9 AD), traders from China and Brunei began their interaction. During the Tang Dynasty (618-907), contacts between the two countries were officially established. Commercial and cultural exchanges expanded rapidly between the two sides in the Song Dynasty (960-1279) and reached their peak during the Ming Dynasty (1368-1644).
In 1408, Sultan Majid Hassan of ancient Borneo, known as " Maharaja Karna" in China, led a delegation of more than 150 people to pay a visit to the Ming Emperor, which has been recognized as a historic event in Sino-Bruneian relations. As a result of these exchanges, Chinese artifacts date back to the Tang and Song dynasties were found in large quantities in Brunei Darussalam. These evidences indicate the long and close linkages between China and Brunei.
Quanzhou, as an important seaport, was a destination for merchants, missionaries and nobles from ancient Borneo as well as other kingdoms. Similarly, Brunei was also an ideal place where people of Quanzhou and other places of Fujian Province came to trade and stay.
There are hundreds of exhibits in the exhibition including porcelain, gravestone, ship models, ancient coins, historical images and documents.