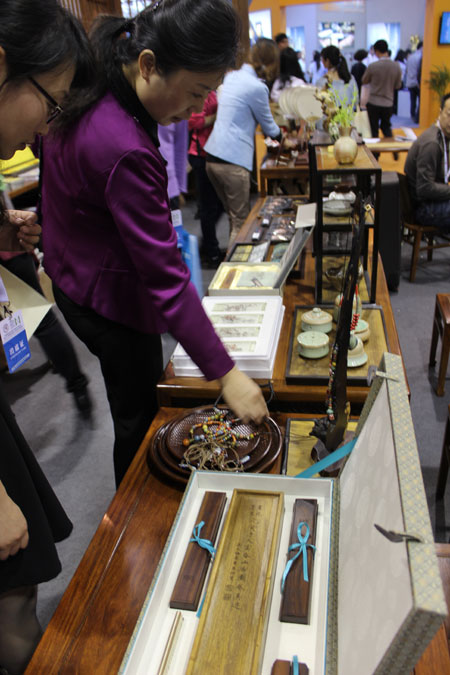 Newly designed museum souvenirs are on display at a fair held in Xiamen, Fujian province. [Photo by Jiang Dong/China Daily]
But at least 20 percent of museums in the country aren't registered with the authorities, 30 percent are unable to make ends meet, and 60 percent do not even have a complete inventory of their collections, according to a report by Xinhua News Agency, citing a source in the State Council's Legislative Affairs Office.
Detailed inventory of collections and identification information of cultural relics will be needed for museums to get their licenses approved, according to the new regulations.
A cultural relic with an "unclear origin" will not be allowed to be collected by museums, it adds.
In order to better identify museum exhibits, a national general survey of cultural relics is underway.
The process will help create a national database of all items that have been preserved in China's various museums.
More than 12 million cultural relics have been assessed.
The general survey will last until the end of 2016, according to the State Administration of Cultural Heritage.
The new rules also suggest that museums give free entry tickets to visitors, and all museums are required to open to the public within six months of getting their licenses.
"Rational business operations", like developing cultural innovation products, are also encouraged.
"Many Chinese museums are public institutions fully supported by fiscal expenditure. It used to be unclear whether they can make a profit, which can be an obstacle to nurture creativity," says Zhang Peng, a member of a national committee for cultural innovation products under the Chinese Museums Association, the industry supervision body.
However, the new rules encourage a museum to explore multiple ways to get financed "so long as basic discipline and its role as an educator" isn't changed.
"Collections are treasures of museums. Making money isn't the priority, but it will help establish a link between cultural institutions and the creative industry through areas like souvenir design," says Song Xiangguang, a museology professor from Peking University.
"It will enhance people's consumption of culture."