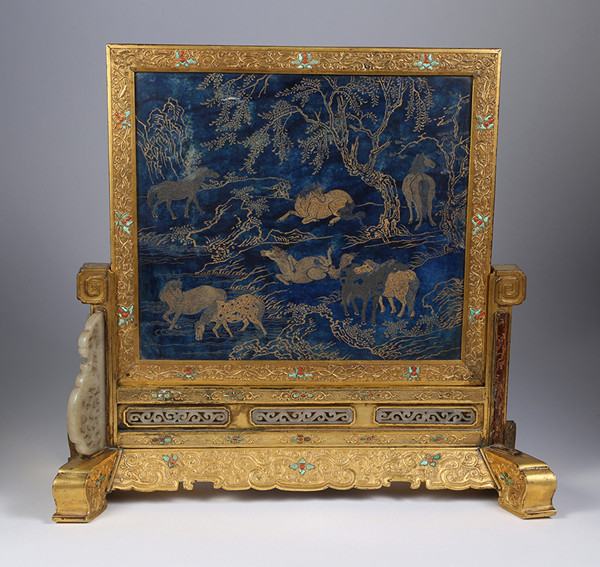 A rare 18th century Chinese bronze table screen, decorated with a poem by the Qianlong emperor, will be on auction at the upcoming Asia Week in New York by auction house Lark Mason Associates. Provided to China Daily
Bonhams, the British auction house, will auction close to 300 pieces divided into three collections. One will feature 100 Chinese snuff bottles from a single owner, another is an assortment of eight pieces from a different collector, and the third contains 165 pieces from various owners.
The 165-piece sale focuses on the theme of art from Chinese scholar studios, which will include jade carvings, traditional Chinese furniture called huanghuali furniture, and paintings, which Bruce MacLaren, Chinese art specialist with Bonhams, said are doing very well in the market today.
"Traditional paintings are doing really well right now, as well as classical painting, calligraphy does very well in today's market. These are areas that have historically been collected, but now they're coming back and they're selling very strongly," he said. "Calligraphy has always been considered the highest art form in China."
Art experts also said that they anticipate Christie's auction of items from the Robert Ellsworth collection, one of the most prominent Asian art collections by an American.
"This Asian Week is going to set a number of records, principally because one of the largest collections of Chinese art to hit the marketplace is coming to auction, that of Robert Ellsworth," said Lark Mason, founder of iGavel Auctions and Lark Mason Associates, both of which will be selling pieces during Asia Week.
"I think there has been a subtle shift in demand for Chinese art, and I think that subtle shift is reflective of the desire for items with a strong provenance, which is a documented history of ownership," he said. "That's one of the reasons why I think this series of sales is going to be so strong, because whether I'm speaking about the Ellsworth sale at Christie's or sales of other houses, we all have objects that come from long-standing American collections."