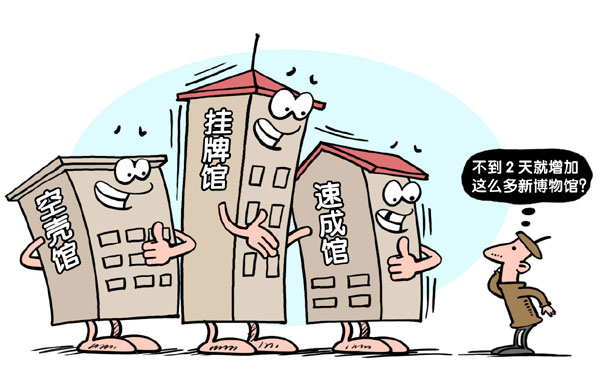 A cartoon shows that a new Museum Regulation released on Mar 2 will address the problems of the unchecked growth of non-state-owned museums. [Photo/Xinhua]
A new regulation will define support and restraint for non-state-owned museums to address what insiders have called "unchecked, barbaric growth".
The Museum Regulation, signed by Premier Li Keqiang and released Monday by the State Council, China's cabinet, stipulates that private museums will receive the same treatment as state-owned institutions.
China had 4,165 museums by the end of 2013. Among them, 811, or 19.5 percent, were private.
Still in their infancy, private museums in China have been plagued by slack management and supervision; weak infrastructure; improper preservation; and even the illegal trade of ancient relics.
According to the regulation, museums must not acquire items from illegal or unknown sources, and they are forbidden to use their collections for profit outside their duties.
Lyu Jianchang, a professor with Shanghai University, noted that it was suspected that some private museums' collections were acquired in suspicious circumstances.
Meanwhile, some museums had used government funding and public donations to undertake unrelated business practices, such as usury.
In a high-profile case in 2014, a family running a private museum in northeast China's Liaoning Province had illegally solicited more than 100 million yuan (16 million U.S. dollars) since 2009 in the name of research.
Police later confiscated 25 properties, gold, jewels, ancient relics and cash worth 2 million yuan from the suspects.
"An obsession with profits has brought more challenges to all areas from field work to preservation. If museums fail to guard against this obsession, their public roles will be at risk," said An Laishun, a senior official with the Chinese Museums Association.
Emphasizing protection and management of collections, the regulation includes detailed stipulations concerning storage, registration and preservation, stressing that museums must archive their collections.
The State Administration of Cultural Heritage said that 60 percent of all non-state-owned museums had not archived their collections and 20 percent were not registered.
"This regulation aims to steering private museums from unchecked, barbaric growth to organized, smooth operations," said Lyu Jianchang, a museum professor with the Shanghai University.
In addition, the regulation encouraged museums to waiver entry fees. While urging county level and above governments to subsidize museums that offer free entry. Those charging entry fees should still exempt minors, students, teachers, the elderly, the disabled and servicemen from entrance fees.
The rules will take effect on March 20.