To celebrate Chinese New Year, a major English-language newspaper in Australia adopted a Chinese titlepiece on Thursday, the first day of Spring Festival.
The Sydney Morning Herald printed "Happy New Year" in simplified Chinese on its front page. The main photograph showed children celebrating the Year of the Ram, also known in the English-language world as the Year of the Sheep or Year of the Goat.
It was the first time that Australia's oldest newspaper had used a Chinese titlepiece.
Celebrations to mark Spring Festival are being held in Sydney from Feb 13 to March 1.
"They have developed into the most significant celebrations for Chinese New Year outside Asia," Sydney Lord Mayor Clover Moore was quoted as saying by the newspaper.
Zhou Chen, a postgraduate student at the University of Sydney, is spending his third Spring Festival in the Australian city.
"I remember my first Lunar New Year in Sydney five years ago, when there were no big celebrations," said Zhou, 27, from Shanghai.
"I felt the atmosphere of Chinese New Year only in Chinatown. However, those celebrations were more linked to cultures from areas in southern China like Guangzhou province, such as dragon dancing and lion dancing."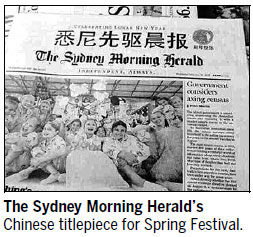 Zhou said this year has been totally different and he has enjoyed the celebrations in Sydney as more and more Chinese in his hometown choose to turn their backs on Chinese traditions.
"We are all aware that Spring Festival is not the same as when we were young, and it is a shame," he said. "So it is interesting to find major celebrations outside the Chinese mainland."
The celebrations are also aimed at tourists, with Chinese increasingly choosing to spend the festival overseas.
Last week nearly 140,000 Chinese joined tour groups to foreign countries. From Wednesday to Friday, more than half a million mainlanders visited Hong Kong, Macao and Taiwan.
China has become Australia's most valuable and fastest-growing inbound tourism market in the past two years, with 789,300 arrivals last year, a 10.5 percent year-on-year increase.
The Cairns Post newspaper quoted Tourism Australia Managing Director John O'Sullivan as saying that Spring Festival provides a significant boost for Australian arrivals figures.
"The timing of this year's Spring Festival could not have been better, coming just weeks after the signing of a landmark air services agreement between Australia and China," he said.
"Under this deal, the cap on seats from Beijing, Shanghai and Guangzhou to our major gateway cities of Sydney, Brisbane and Melbourne has been lifted," O'Sullivan said.
James Roy, associate principal at the China Market Research Group in Shanghai, said, "Chinese tourists are the biggest spenders when traveling abroad, so it's important to make Chinese consumers feel welcome.
"However, there's a line between showing respect and failing to cater to consumers' tastes. Many brands don't know much about Chinese culture, and fail to use Chinese elements to attract their target customers. They don't know where the line is."