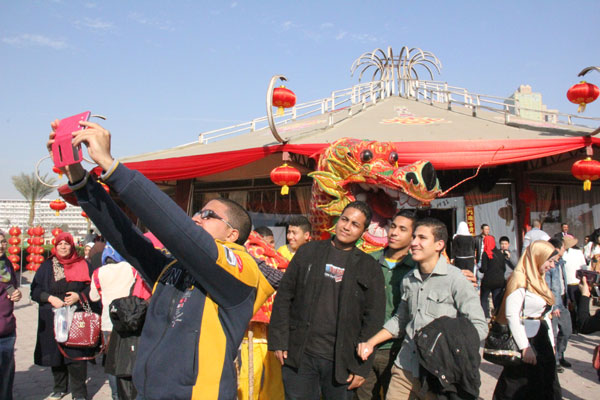 People in Cairo enjoyed Chinese cultural activities on Feb 5 at the Maadi Island Park along the River Nile in Cairo. It is the sixth year that Egyptians have taken part in the annual Happy Spring Festival. [Photo by Yu Yao/China Daily]
Two countries with ancient histories share a love for culture on the banks of the Nile, Deng Zhangyu reports from Cairo.
Egypt celebrated Spring Festival before China this year when the Maadi Island Park along the River Nile in Cairo hosted 11,000 locals on Feb 5 for an authentic Chinese experience, starting off with signature dragon and lion dances.
The park was covered with Chinese red lanterns, and kites of all shapes were flying high. Booths displayed Chinese traditional arts and crafts such as shadow playing, paper-cuts and painting on leaves. And of course, Chinese dumplings, noodles and chicken rice were offered along with other traditional foods.
This is the sixth year that people in Cairo have enjoyed a Chinese festival. Liu Shiping, executive director of the China Culture Center in Cairo, says the number of Egyptians taking part in their annual Happy Spring Festival has risen from 2,000 in 2010 to 11,000 this year.
"China and Egypt are both countries with long histories. We have many cultural similarities. That's why Egyptians are interested in China and eager to know more about China," said Liu.
Mahmoud Nasser, a company secretary who was visiting the festival for the first time, said he wanted to know more about Chinese culture and how China has developed since his own country and China both have such great histories.