Yangko, a rural Chinese folk dance with a history dating back thousands of years, originates from farming life in ancient times. The dance relates to sacrifices to the farmland god when people prayed for a good harvest. As time passed, the original dance evolved, taking in various artistic forms and skills, including opera, acrobatics and martial arts, and eventually developed into the type of Yangko that is seen today.
Featured among the inaugural items of national intangible cultural heritage in 2006, Yangko is mainly popular in northern China. People often perform the dance during festivals, especially for Chinese New Year and the Lantern Festival in the first lunar month. Performances or competitions are organized in towns and villages to express people's joy and their hope for a better life.
Yangko employs drumming, a Suona horn, dancing and singing. Content is based on folk stories and legends. Costumes are richly-colored and opera-styled, enabling characters to be easily identified. During a performance, the actors will dance and sing, following lively rhythms. Highly-skilled and interesting acts such as stilt walking and carrying a wedding sedan chair are also included. Yangko enjoys high popularity among the general public due to its humorous yet joyful form.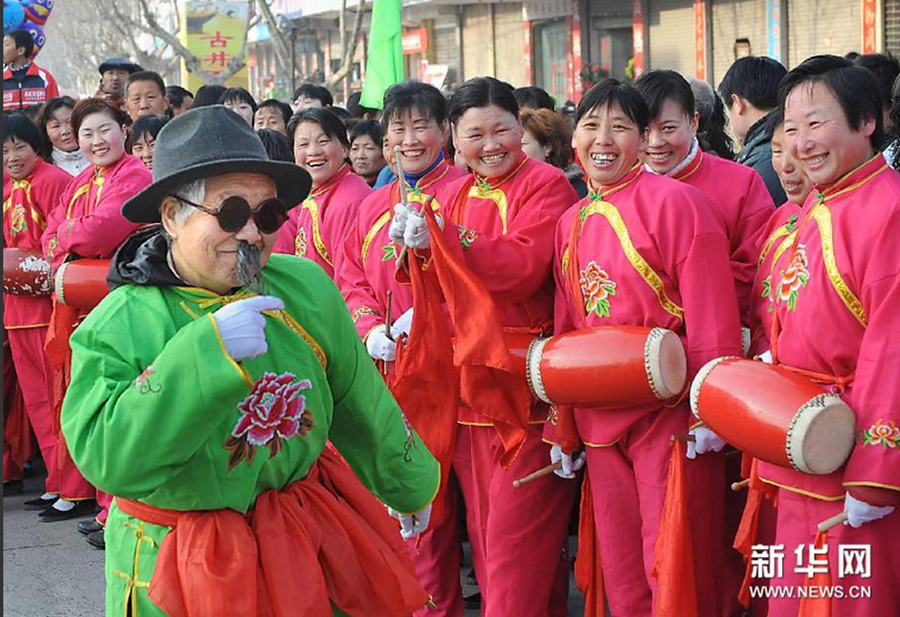 An old lady performs Yangko in a competition in Qinyang city, Henan province.[Photo/Xinhua]