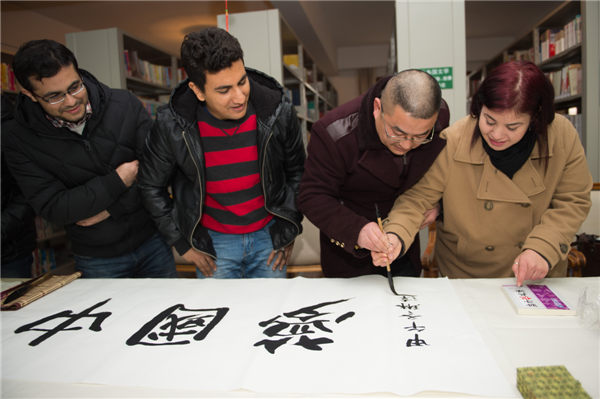 A calligraphy expert shows students how to use a traditional brush pen in Hefei, Anhui province, on Jan 13. Du Yu/For China Daily
Youngsters unwilling to learn ancient skills needed to produce the traditional pens used in calligraphy.
In the workshop of the Wangyipin Brush Pen Store in Huzhou, 29-year-old Shi Wangli brushes goat fur in water with an ox horn comb to select appropriate strands to make a traditional Chinese brush pen.
Her hands are immersed in water for at least eight hours a day, in both summer and winter. The selection of the hairs is one of the most important steps of making a quality brush pen and the work she does cannot be performed by a machine.
Shi is the youngest brush pen technician in the entire city of Huzhou. These days, few young people are willing to undertake such a difficult job.
Xu Jianfeng, general manager of the store, said he is worried the thousand-year-old techniques for making the Huzhou brush pens used in calligraphy will be lost with no young people willing to learn them.
"If the Huzhou brush pen dies, an important part of Chinese culture will die with it," he said.
Located in the north of Zhejiang province, Huzhou has been home to brush pen-making for thousands of years. In ancient China, an excellent Huzhou brush pen was representative of social status and was the aspiration of all men of letters.
In Chinese history, brush pens served as an essential tool for cultural inheritance.