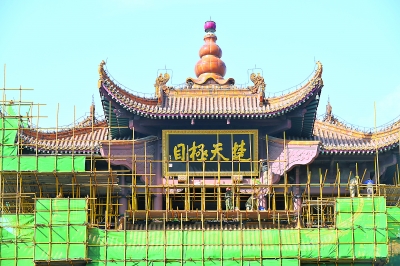 The Yellow Crane Tower is under renovation. [Photo/ Xinhua]
One of the most famous tourism spots in China, Yellow Crane Tower, is being renovated for the first time in three decades, with all the glazed tiles being replaced in the main buildings.
An article called "You can go to the Yellow Crane Tower to see how glazed tiles are changed in ancient buildings" went viral online earlier this month and drew much attention from the public.
According to relevant reports, the fourth and fifth floors of the tower are closed, with the main structure still open to tourists. The bottoms of the buildings are surrounded by scaffolds.
Restored in 1958, all the main buildings of the tower were covered by glazed tiles, which is the focus of the recent renovation. According to experts, glazed tiles are good for 30 to 50 years. Located in Wuhan city, Hubei province, the Yellow Crane Tower has suffered significant temperature changes in different seasons, which makes the tiles even more fragile. In addition, the tower stands on the top of She Mountain, with no shelters above it. Confronted with the sun and the wind for three decades, some of the tower's tiles have been badly damaged, especially those on the northern side where the wind is strong.
The renovation will last for half a year. Yellow Crane Tower is expected to reopen in the middle of 2015.