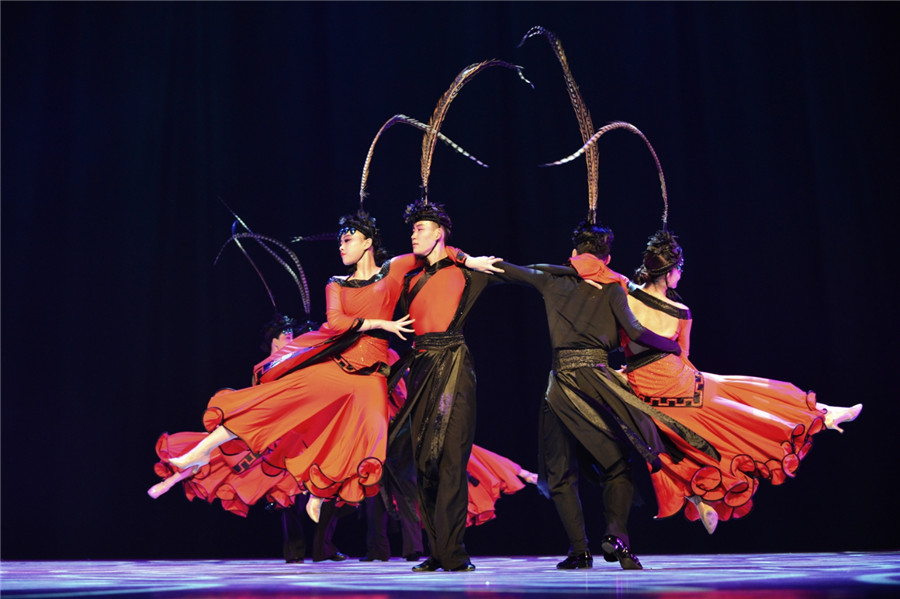 Photo shows the dance, Dreamlike Song, which integrates the dance culture between east and west, and its dance steps are even faster than the rhythm of the gongs and drums in the Peking opera. [Photo provided to Chinaculture.org]
The 2014 CBDF artistic show dance event,
Dancing the China Dream
, concluded at Beijing Minzu Theater in Beijing recently, attracting a large number of audiences.
The event was hosted by China Ballroom Dance Federation (CBDF), under the support of China Federation of Literature and Art Circle (CFLAC) and China Dancers Association (CDA).
Luo Bin, vice president of CBDF, said before the show that the ballroom dance has made tremendous progress since its introduction into China about 30 years ago. Through incorporating some elements of Chinese folk dances, it presents aesthetic forms and artistic charm of unique Chinese styles.
The show put on stage many marvelous works, such as Dreamlike Song, Hutong Impression, and Chasing Dreams.
The audiences enjoyed the wonderful performances and appreciated the artistic charm of the ballroom dance.