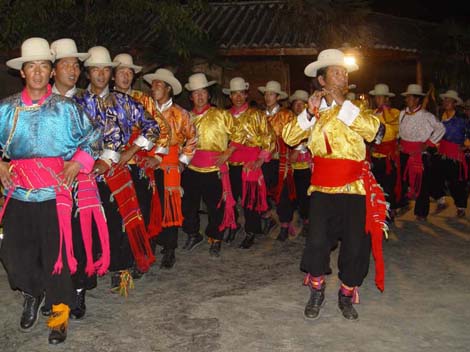 The Lugu Lake is situated in a place where Southwest China's Yunnan Province and Sichuan Province meet. Living around the Lugu Lake, the people from the Naxi ethnic group have a special marital tradition- "A Xiao." "A Xiao" means friends and includes two different forms. In the early part of the 20th century, about 70 percent of the people lived abiding by "A Xiao" marital customs.
In the first kind of "A Xiao" marriage the men don't marry a woman, and the women don't marry a man. The male adults secretly go to a woman's house and spend the night with the woman but leave for his mother's home in the next morning. The two don't call each other husband or wife but "A Xiao." They don't have a family together so their relationship is not stable. The longest lasts several years, the shortest is only about one or two nights. Most people have several "A Xiao" relationships. Some even have more than 100. Generally speaking, the "A Xiao" relationship becomes increasingly stable among middle-aged people.
When a girl reaches 15 or 16 years old, and a boy 17 or 18 years old, they begin to set up an "A Xiao" relationship through social activities, like festivals and labor. The common manner is: When a man meets a woman and he or she has a feeling for the other, he or she could take an item away from the other according to the tradition. If the other smiles, it means he/she wants an "A Xiao" relationship. If the other is serious to get back his or her thing, it shows he/she refuses. Some young men and women like to sing love songs to each other and learn about each other's personality. The men and women have equal rights to accept or refuse to establish the "A Xiao" relationship.
When a man chooses an "A Xiao," he puts much emphasis on a woman's appearance and age, followed by the consideration if she is diligent and loves him. When a woman chooses an "A Xiao," she usually considers a man's economic situation, next his talent and appearance. Therefore, beautiful women have more chance of having an "A Xiao," while those people not physically desirable have to live alone for life.
As part of the "A Xiao" relationship, they must abide by the marriage tradition. The adults, belonging to different bloodlines, could establish an "A Xiao" relationship freely. Three to five generations later, the ones, belonging to the same bloodline, could also have this relationship. In other words, an "A Xiao" relationship is not restricted by age, generation, class and nationality except bloodline.
It is easy to get out of an "A Xiao" relationship. All that needs to be done is for the woman to close her door, and the man not to visit, or to send a message to him or her that the "A Xiao" relationship is over. An "A Xiao" relationship is easy to establish and easy to end, so the people don't care about it ending. Some people keep in touch after the relationship is over. They greet each other when they meet again. Therefore, it is also easy and common for them to re-establish their relationship.
The man and woman in the "A Xiao" relationship don't live in the same family so that their children don't know their fathers. Therefore, the children belong to their mothers.