Chinese tattoos have become a raging phenomenon among tattoo enthusiasts of the western world. Chinese tattoos offer beautiful characters with a sense of the exotic and often much deeper meaning than that which lies on the surface.
Ci Shen - Chinese Tattoos
The art of tattooing has been known in China for thousands of years. Tattooing in China is called Ci Shen (Or Wen Shen), a term that means literally "puncture the body." Although the art has been known in China for ages, it has for the most part been an uncommon practice. Throughout Chinese history tattooing has been seen as a defamation of the body, something undesirable.
Water Margin, one of the four classical novels of Chinese literature, does reference tattooing. Water Margin tells the stories of bandits of Mount Liang area of China during the early 12th century. The novel talks about the 108 companions of the historical bandit Song Jiang. Three of these characters are referenced as having tattoos covering their entire bodies.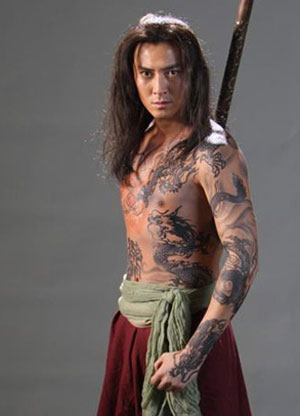 The most famous tattoo in Chinese history comes from the legend of the Chinese general Yueh Fei. Yueh Fei served the South Song Dynasty. During battle with northern enemies the Field Marshall under whom Yueh Fei served betrayed the South Song and went over to the enemy.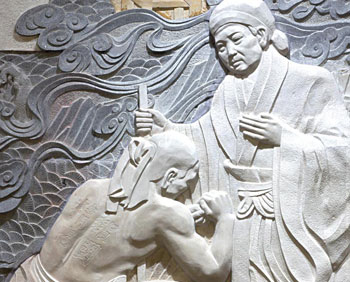 In protest Yueh Fei resigned and returned home. His mother grew angry with him, telling him that his duty was first and foremost to his country, despite all else. To remind him of this fact she tattooed four characters on his back with her sewing needle. These characters, jin zhong bao guo, are difficult to translate but mean something like "Serve his country with ultimate loyalty."
At some points in Chinese history Chinese tattoos were also used to mark criminals. Criminals convicted of a severe crime would be ordered to have a tattoo printed on their face and exiled into a faraway land. Even should the criminal ever return the tattoo would mark them forever as a criminal? This form of punishment was known as Ci Pei (Tattoo/Exile).
In modern China Chinese tattoos have grown somewhat of a stigma as being affiliated with organized crime and the criminal underworld.