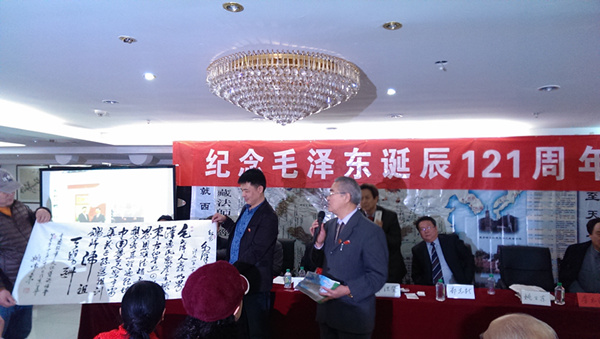 An artist contributes his work to the event commemorating Chairman Mao's birth.[Photo by He Keyao/chinadaily.com.cn]
A three-hour celebration was held in Beijing to commemorate the 121st birthday of Mao Zedong, the founding father of the People's Republic of China in Beijing on December 26.
With the theme "make love everlasting", the event aimed to recall Mao Zedong's spirit and share people's memories and love for the founding father. Nearly 100 representatives from business, art and culture circles participated in the event.
"There is Christmas in the West that falls on the 25th of December, whereas there should be an 'oriental Christmas' in the East that is set on the 26th of this month, Mao Zedong's birthday," Bian Hongdeng, the secretary-general of the Global CEO Association and the host of the event, said at the ceremony. He stressed that it was Mao who established the new China and implemented the most rational land reform that built the foundation of China's modernization. He also analyzed Mao's influence on Chinese national identity and also on the whole world, speaking highly of Mao's strategic thoughts, patriotic sentiment and his spirit of self-sacrifice.
Wang Fenglin, the general secretary of the Organizing Committee of Chairman Mao's Memorial, also gave a speech at the event. He said Mao set a high standard and strict requirements for himself, his children and the staff he worked with, not only in terms of work, but also in daily life. No matter in times of war or peace, he was always an example for others.
Many artists, including Qin Bo, vice president of the China National Academy of Painting and Calligraphy, contributed their exquisite works to the memorial ceremony. Well known poems written by Mao were repeatedly recited by representatives present.
The event was organized by the Chinese Elite International Federation, Global CEO Association, the Organizing Committee of 121st Anniversary of the Chairman Mao's Birth, the China Charity Foundation, the Chinese Celebrated Painting and Calligraphy Research Institute and Chinese Overseas Students Development Foundation.