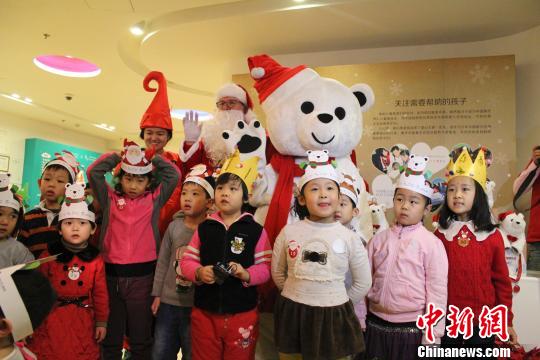 Children celebrate the Christmas Day. [Photo/Chinanews.com]
People felt a strong and happy festive atmosphere in Beijing on Dec 24, and the Christmas Eve turned out to be another carnival for youths and kids just like the Halloween not long ago.
While the Western festivals are becoming increasingly popular, the Chinese traditional festivals seem to be losing their traditions and becoming less attractive to the young people in China.
Recently, the China Youth Daily conducted a survey on the Western festivals and the Chinese traditional festivals, with a total of 18,377 people joining the poll.
Among the participants, about four percent of them were born after 2000, 40.6 percent in 1990s, 38 percent in 1980s, 9.5 percent in 1970s, and 7.9 percent in 1960s or above.
According to the survey, Saint Valentine's Day, Christmas Day, and the Halloween are very popular among the participants.
Under the context of globalization, it's a good for people to have more choices and resources on celebrating the festivals, a folklore expert Yang Lihui told China Youth Daily, who is a professor at School of Chinese Language and Literature, Beijing Normal University.