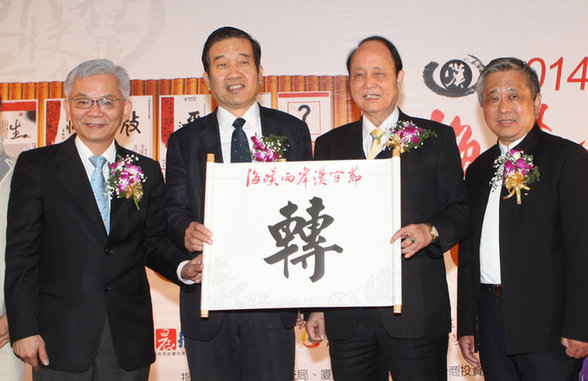 Guests hold a piece of calligraphy of the Chinese character zhuan in Taipei, Taiwan on Dec 18, 2014. The guests, from left, are: Huang Qinglong, president of Want Daily, Su Shishu, calligrapher, Lin Join-sane, chairman of the Straits Exchange Foundation and Cao Fang, director of Taiwan investment in Haicang district in Xiamen. [Photo/Xinhua]
Zhuan, (or 转,Pronounced "zhuan", meaning turn or transform) was voted as the cross-Straits Chinese character of the year on Dec 18, 2014.
The character zhuan means the Chinese mainland and Taiwan have both witnessed great transforms in the past year and are expecting to "turn" good luck in the new year.
The character was selected by more than 6.9 million netizens from the cross-Straits area from among 20 characters, including zhuan (转), bian(变), chuang(闯), cheng(成)and shen(慎).
The event has been held for five consecutive years, jointly organized by Taiwan-based Want Daily and Xiamen-based Haixi Morning Post.
"The year 2014 has been a year of transformation as the Chinese mainland pushes forward its anti-corruption campaign and sets the 'rule of law' as a national strategy," Chen Weiping, deputy editor-in-chief of Haixi Morning Post, said, commenting on the character, Meanwhile, Taiwan has also witnessed changes in the anti-clothing trade movement and food safety storm. 'Turn' means luck according to the Chinese dictionary Shuowen Jiezi. The urgent problem is how to transform the mindset facing challenges. We hope the cross-Straits will turn good luck in 2015."
After the announcement of the character, nearly 20 calligraphers gathered and wrote the character with Chinese brushes.