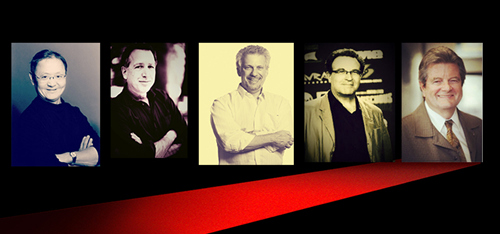 The 2014 Beijing International Film Music Festival made its debut in Beijing on Dec 4. [Photo/xinhuanet.com]
The First Beijing International Film Music Festival was kicked off at Central Conservatory of Music in Beijing last week offered veteran film music composers, singers and scholars from China and the US the chance to share knowledge and current developments of the film-music industry.
The festival was co-organized by the Central Conservatory of Music, CCTV Movie Channel and universities from the United States - including the University of Southern California, UCLA and New York University.
Chinese singer Li Guyi, 70, who has performed over 100 songs for films since the 1960s, said that film music is significant because it deepens the audiences' understanding of the dialogue and imagery in the movie and it helps establish the mood and tone of the movie.
At the opening-ceremony concert, music from classic movies such as Schindler's List and Titanic, was been performed.
To further promote development of the film music industry in China, festival organizers also launched a plan to support young Chinese composers.
Beijing-born and New York-based Chinese composer Wang Feinan, 28, held a concert as the conclusion of the festival on Dec 8. Titled Boiling Point of Imaginations, the crossover concert gathered eight music composition works by Wang, who is better known by her stage name, Fay Kueen, in the US. She also performed as the vocalist during the concert.
According to the composer, the eight works, including Monodrama of Old Haven for mixed ensemble and The Eighth House for cello and fixed electronics, were composed during the past five years when she was in the US earning her master's degree and artist diploma at the Yale School of Music.
"I have never composed for a film, but all my works break the convention of different music genres, such as classical music, jazz and rock, and cross borders, generating a strong visual impact," said Wang, who got her bachelor's degree at the Central Conservatory of Music.
According to the festival committee, the gap between film-production companies and young Chinese composers will be bridged, which will offer the young musicians more opportunities to write film music. The Central Conservatory of Music plans to make the festival an annual event.
Related:
Korean stars shine at music festival in Hong Kong