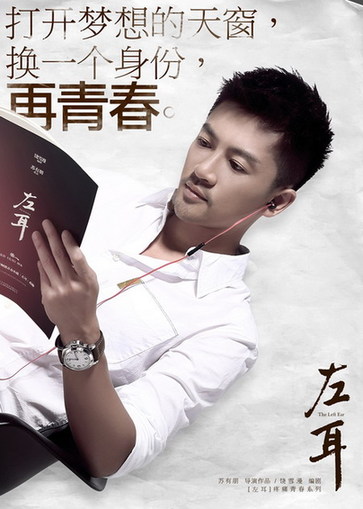 Photo provided to chinadaily.com.cn
Chinese singer Alec Su, once a heartthrob to numerous young women in the 1990s, now chooses to stand behind the cameras.
In his directorial debut The Left Ear, a film adaptation of the best-seller with the same title, Su finds his new job to be much more challenging than acting as a star on screen.
"The first time I saw Su, he squatted against a wall and was eating a box of takeaway food," reveals Rao Xueman, the novel's author and also the screenwriter of the film, at a recent press conference in Beijing.
"It really surprised me that such a top star looked like a labor worker," she says, smiling.
The novelist's comments were echoed by the lead actor Hu Xia, who says Su has been very "demanding" of every member of the crew.
Su, who spent his 41st birthday at the shooting locations, says, "I didn't have a career development plan to switch to be a director. But when the offer came, I just took it and I hope I won't let my boss down."
Su was recruited in a project aiming to train new directors, which was launched by the film's investor Enlight Media, one of the country's largest privately owned entertainment companies.
The shooting of the film finished on Nov 18 and it is now in post-production.
As a former member of the hit pop band Little Tiger, Su shot to fame on the mainland in 1991, when the band held its first concert in Beijing.