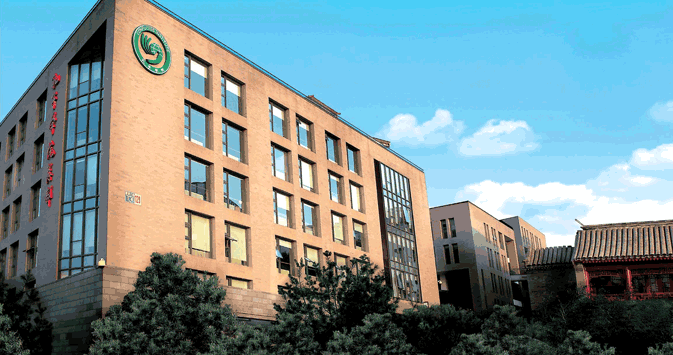 Hanban/Confucius Institute Headquarters in Beijing[Photo/Hanban.org]
With increasing overall national strength and international status, China is attracting more and more attention to its culture. The national strategy — the International Promotion of Chinese — symbolized by the First World Chinese Conference held in 2005, has aided China in spreading its cultural influence around the globe. Professor Sun Yixue, sub-decanal of the International School of Tongji University, contends that this hot phenomenon needs calm consideration, and that the way ahead is still long and arduous.
SO far, 440 Confucius Institutes have been set up in 120 countries and regions and have educated more than 100 million students; high schools in America have adopted the course of "AP Chinese Language and Culture" since 2006, attaching greater importance to Chinese teaching. However, there are certain concerns that cannot be ignored.
From the Chinese perspective, a number of questions need to be addressed: What should be transmitted and what's been done? How is it to be accomplished? What effects do we hope to achieve and are those goals met?
From the international perspective, we need to put ourselves in the shoes of others to answer questions such as: What do we need? What did we get? What ways will be more pleasant to us?
Gaps can clearly be seen between expectation and reality on the part of both China and the rest of the world.
The internationalization of Chinese culture is closely related to the rapid growth of China's economy.
The UK's example shows that developed regions enjoy higher priority in cultural communication, and that accomplishing it relies on both market requirements and human efforts.
The internationalization of Chinese culture is of great necessity and urgency. It will challenge Western centralism and build up a positive Chinese image, constructing a sound international environment for China's peaceful and sustainable development and reconstructing the pattern of multicultural coexistence in the world.
To ensure the implementation and quality of the strategy to spread Chinese culture globally, Hanban (abbreviation for the Office of Chinese Language Council International) has set up two standards and a syllabus. They are "Chinese Language Proficiency Scales For Speakers Of Other Languages," "Standards For Teachers Of Chinese To Speakers Of Other Languages" and "International Curriculum For Chinese Language Education."
But compared with language standard construction in America and European countries, the standards of international communication of Chinese language seem rather weak either in design and research. It is imperative to formulate a series of language standards for international communication with Chinese features and strong international competitiveness and influence, and to design a quality evaluation system for these standards.
It is undeniable that further progress of international communication of Chinese language brought about a number of problems in such aspects as teaching staff, teaching materials, communication strategies and methods, layout of Confucius Institutes, modernization of Chinese traditional culture, communication modes between Chinese culture and other cultures, management mechanism construction, etc. Whether these problems can be solved will have a direct impact on international communication of Chinese culture.
Understandable expressions
Although the international communication of Chinese culture is conducted via a variety of promotional activities and produces some positive influence, there exist such problems in the form and content of cultural communication as strong subjectivity, input-output unbalance, and others. To transmit Chinese culture in a way favored by receptors, it is recommended that mutual understanding be strengthened with appealing and understandable expressions.
As to the issue of Mo Yan's winning the Nobel Prize, there are two points to be made. On the one hand, effective translation plays a crucial role in Mo Yan's success. As Mo Yan himself said, "Without translators' creative efforts, national literature would not possess world significance." Yet the number of competent translators in China, to our disappointment, is far short of adequacy, especially for advanced C-E translators.
On the other hand, Mo Yan's achievement proves the importance of sinologists. Sinologists' introductions to China seem to gain better acceptance in target language contexts. Their focuses are experiencing a shift from traditional thought to contemporary society. It provides a golden opportunity for international spreading of Chinese culture.
Last but not least, the role of foreign student education cannot be neglected. It is one of the ultimate goals to enable foreign students to be pulled by Chinese culture in Chinese language acquisition.
Nevertheless, in the course of teaching, utility of Chinese language is overemphasized, leaving its culture aside. In the light of this, we should make full use of superiority in geography, economy and culture, integrate and optimize relevant resources, and adopt effective measures to foster a multitude of culturally friendly overseas citizens.We hope cultural communication will be kept in a normal state instead of a temporary hotness so the tree of Chinese culture can tower in the forest of world culture.