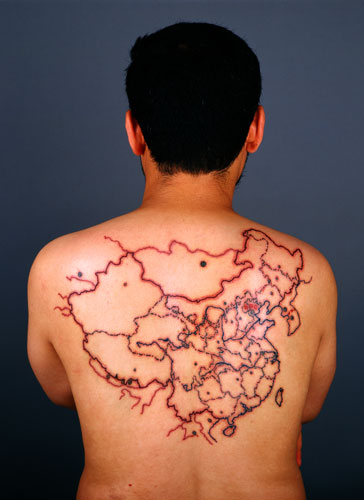 The Miniature Long March -- Beijing 2002. Photographs and videos of Qin Ga retrace the Long March, memorializing each site of pilgrimage on the map of China tattooed on his back.[Photo/China.org.cn]

Chinese people know Vienna, Austria, former capital of the Austro-Hungarian Empire, as a world capital of culture. Mention Vienna, and Empress Sisi, Johann Strauss and the Golden Hall immediately come to the mind's eye.
The tenth edition of the Vienna Art Week has just concluded, and contemporary Chinese art was conspicuously present. Organized around the theme of "Running Minds", the week of Nov. 17-23 was dedicated to the creative process and the restlessness inherent in the artistic act.
In addition to exhibition openings in museums, palaces and galleries amongst the 79 program partners, museum tours were led by artists and curators. These were complemented by film screenings, performances, and architectural visits. An Open Studio Day welcomed visitors to the workspaces of scores of artists all over the city.
According to its Artistic Director, Robert Punkenhofer, Vienna Art Week is "unique in comparison with other European cities. Every year, Vienna's museums, art schools, galleries and independent art initiatives work together to create the festival program."
China's contribution was made by the Yellow Mountain Contemporary Art platform in their show, "The Future is the Past — In Search of a Chinese Portrait." According to its Project Manager, Gedaliah Afterman, the new platform established in 2012 is focused on identifying, supporting and developing exciting young and emerging artists from China and Asia. The Beijing-Hong Kong-Vienna based platform seeks to strengthen cultural exchange between Chinese and international artists through joint exhibitions, public art events and art residencies for promising young artists.