The China Art Festival, initiated in the autumn of 1987, is an important national cultural and art pageant for ordinary people throughout the country. The First China Art Festival was held in Beijing, and then once every two years. The festival is co-sponsored by the Ministry of Culture and provincial or municipal host government, and usually lasts for 15 to 20 days.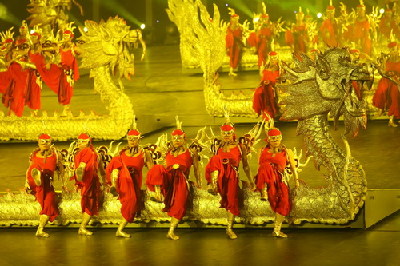 The late-Chairman Deng Xiaoping inscribed the name for the festival, then ex-Chairman Jiang Zemin attended the second festival and wrote appreciation words for the third and fourth festival, and many other government leaders either attended or inscribed for the festival. The Party and the State leaders hold the position of president and honorary president of the festival.
As a high-level comprehensive art activity, the China Art Festival plays an important role in enriching people's cultural life and promoting sustainable development of culture and art. It is a good form not only of carrying forward national glorious culture, promoting socialist culture and enriching people's cultural life but also of boosting economic development, furthering reform and opening-up and social advancement, keeping social stability and inspiring ethos.
Since 1987, the festival has adopted various art forms to fully reveal the great achievements of China's cultural and art industry.