Chinese collector Liu Yiqian's "self-willed" purchase of an embroidered Thangka at a Christie's sale in Hong Kong on Nov 26 has pushed the Shanghai billionaire into the public view again, following his lavish spending on a "chicken cup" in April this year. The man who founded the Long Museum in Shanghai with his wife always makes a stir with his buying. Let us review the art pieces that he has purchased for over 100 million yuan (nearly $16.3 million).
1.Imperial embroidered silk Thangka (The period of Emperor Yongle in the Ming Dynasty)
HK$348.4 million (around $45 million)
Nov 26, 2014
Christie's 2014 Autumn Auction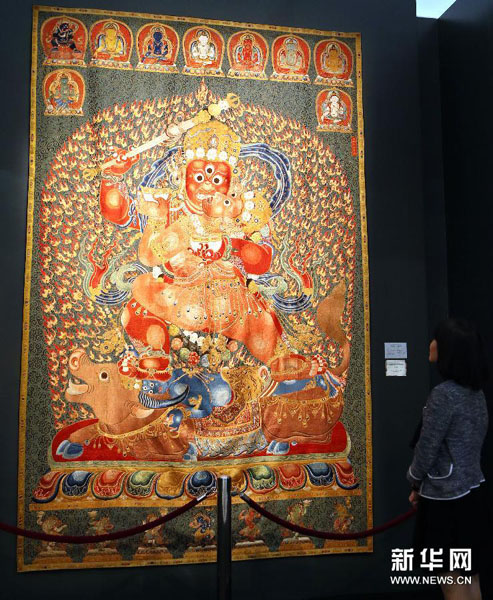 The imperial embroidered silk Thangka [Photo/Xinhua]
It is the largest Tibetan embroidered Buddha Thangka from ancient times with a theme of driving out evil spirits. According to Christie's, there are only three pieces of Yongle Thangkas in existence and the other two are both in Jokhang Temple in Tibet. The Thangka is 3.1 meters long and 2.3 meters wide. The Thangka was finally sold for a record high of HK$348.4 million.