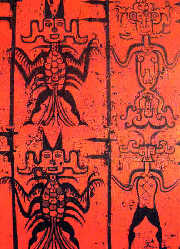 Patterns on the inside of a painted coffin, early Warring States Period (476-225BC)
Since the Han Dynasty (206BC-220AD), due to the widespread use of ceramics, lacquer wares gradually lost its popularity. In the modern time, with the improvement of people's life, traditional lacquerworks have already receded from the list of people's daily utensils. How to integrate lacquer art with modern life while enhancing its
artistic value is an issue requiring in- depth study of lacquer artists.
Modern lacquer painting, as an independent painting genre, has developed for some 40 years and has been recognized by public. Its success should be attributed to richness of traditional lacquer art and techniques. Modern lacquer paintings have been displayed in each national fine arts exhibition. And lacquer painting courses are now offered in several fine arts colleges, including the fine arts school ofTsinghua University, Nanjing Arts Institute and the crafts and design school of Fuzhou University.
Based on traditional lacquer techniques, modern lacquer artists have explored different qualities of lacquer and created many new techniques. Lacquer is not simply a decorative material. It is now used to stick egg shells and mental pieces. Lacquer is also used as a cohesive to make colored paint together with mineral pigment. The flowing quality of lacquer enables artists to use it at their will in their creations. When it is dried, lacquer can be grinded by charred wood or abrasive paper, which make the modern lacquer art possible.
Since the 1980s, Chinese lacquer art has been showcased in many countries including Japan, South Korea, Vietnam and former Soviet Union and has drawn extensive interest of the international art circle.