One piece particularly representative of Huishan clay figurines is Da A Fu, meaning "great good fortune." It features two lovely, plump children, a boy and a girl, each holding a tiny lion. The figurine is considered a symbol of happiness and auspiciousness. In 1992, it was made the official mascot of China International Tourism Year.

 Gaomi clay figurines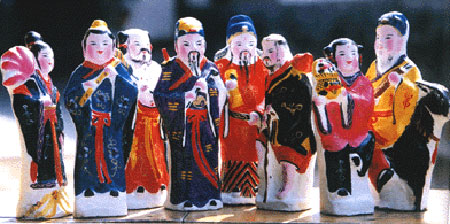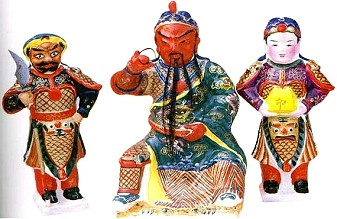 Gaomi (a place in Shandong) clay figurines have a history of 400 years. In the Long Qing and Wan Li periods of theMing dynasty, farmers in Gaomi designed a kind of skyrocket. People put powder into the clay idols, which were in the shapes of various animals, such as the tiger, lion, monkey, dog and some legendary figures. After fired, the idols were collected by people as decorations.
Gradually, the figurines were no longer the appendants of fireworks, but developed into a kind of independent handicraft. In the Qian Long's reign of Qing Dynasty, the local artists used the experience of Yang village's New Year Picture for reference, and made some innovations in expressions as well as colorations.
At present Gaomi clay sculptures have become a folk art and is protected and often exhibited in foreign countries.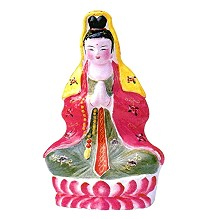 Author: Ivana