There are bamboo-like lines at the foot of the porcelain. The body is connected to the foot before the glaze is coated. The body is decorated with lotuses, clouds and flowers. Dense decorations were not only applied to blue-white porcelain but also to picture weaving and stone carving, reflecting the unique characteristics of the time.
The major producer of blue-white porcelain in the Yuan Dynasty was Jingdezhen. In addition, there were kilns for blue-white porcelain production in East China'sZhejiang Provinceand Southwest China'sYunnan Province.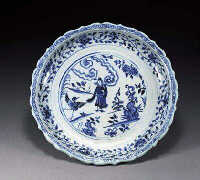 Blue-white porcelain actually belongs to color-glazed porcelain and the coloring agent used is called cobalt oxide. First, using cobalt oxide, paint the unbaked mould, then apply a layer of translucent glaze over it and bake it at 1,300 degrees Celsius. The cobalt oxide will be reduced under the high temperature into a blue hue, which will be very bright and durable without poisonous lead. Each piece of monochrome-glazed porcelain has a single bright color with an exquisite design. A very good mastery of controlling temperature changes and content composition is required. Blue-white porcelain is most famous among the four traditional types of porcelain produced in Jiangdezhen, and is renowned as the "ever-lasting blue flower."
In 1979 Jingdezhen blue-white porcelain won a national golden prize and in 1985 it was honored with three gold medals at international fairs held in Leipzig, Brno, etc. Since then, the name "Jingdezhen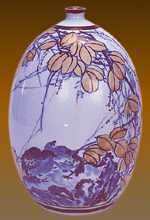 Blue-white Porcelain" has spread far and wide. By far, it is a top product in the porcelain business, boasting the most prizes andhighest standards.

 Color-glazed porcelain
Color-glazed porcelain was one of Jingdezhen's major products during the Yuan, Ming and Qing dynasties. It was colored using both high-temperature and low-temperature glazes, with copper, iron, or gold as the color agent. From the time of the Yongzheng and Qianlong reigns, iron has successfully been utilized for its even, clear and stable glaze qualities. Red porcelain has always been the most popular since the Chinese consider red an auspicious and precious color.