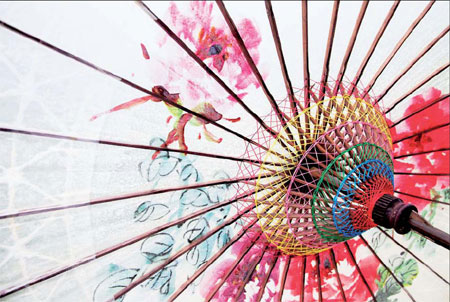 A look at a man, his craft and an obscure art
Of the myriad inventions from antiquity that have forged their way into the modern day, the umbrella (伞 sǎn) is one of the few to have retained its shape, function and beauty. Known to many ancient civilizations, the umbrella has garnered mythological, religious and social connotations, and the ancient craft of traditional umbrella making in China is still popular. Beijing boasts a variety of shops selling uniquely crafted umbrellas. In the historic Dashilanr (大栅栏) business street area, Chang Tao's Qinfenghanyue Craft Shop (秦风汉月油纸伞) is one of the many places where this craft is still a lifestyle.
Chang is a master of this art and has perfected his technique and aesthetic through years of devotion. A fervent sentinel of traditional Chinese culture, Chang - painter, poet and umbrella maker - was born in 1978 in Guangxi Zhuang autonomous region. Early in his career as a painter, he was asked to donate a teahouse and decided to incorporate the traditional handmade umbrellas he remembered from his childhood in rainy Guangxi. But, he realized that none of them matched the beauty or quality of the ones his grandfather made. So he established a small studio in Guangxi combining modern techniques with a love for the art of umbrella making. Artists in Guangxi and Beijing now work under his guidance, following his 86 steps to making a single umbrella, a process that sometimes takes 20 days.
The bamboo is harvested from the wilds of Guangxi for processing the following year. The bamboo to be used in the umbrella's construction is soaked in water, steamed, dried in the sun, polished and carved.
One of the most complicated steps is the umbrella's skeleton, which is stretched, assembled, glued and dried. The paper is a thin cotton, brittle during the work process; it is soaked in tung oil (桐油 tóngyóu) for nine days to harden and waterproof it. The final step is adding calligraphy or painted scenery to give the umbrella its traditional look and artistic identity.