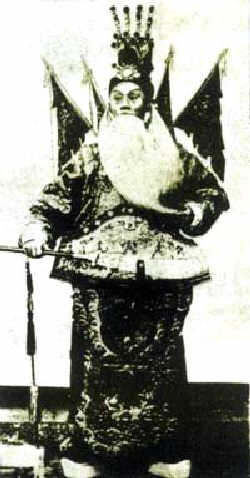 Ding Jun Shan
The year of 2005 is the centennial of Chinese film. In 1905, China shot its first film, Ding Jun Shan, which was also considered as China's firstkung fufilm by some people.
In the 1970s, China's famous kung fu star Li Xiaolong (Bruce Lee) shocked the film circle, earning China's kung fu film worldwide recognition.

 1920s-1950s: Early Stage of Kung Fu film
In 1928, the first golden age of Chinese film, Zheng Zhengqiu shot the film Huo Shao Hong Lian Si (Burning of the Red Lotus Monastery), which was adapted from a popular novel and raised a new tide of kung fu films. Until 1930, 18 sequels were shot.
Most kung fu films during that period were adapted from novels about gods and spirits and relied on stage-limited, artificial, inauthentic elements informed by the supernatural the characters were often sword sorcerers who threw magic darts and possessed special powers in the palms of their hands.
When talking about kung fu film, the "Huang Fei Hong" (Wong Fei Hong) films have to be mentioned. Wong Fei Hong was a famous martial artist and doctor of the lateQing Dynasty(1644-1911) and early Republic of China (1911-1949). Although Wong died in 1924, he is lovingly remembered as a legendary folk hero largely because of the success of the Cantonese films that have maintained the legend.
Between 1949 and 1997, at least 100 Wong Fei Hong films were produced. They rejected the fantastic, stage-driven elements of the earlier martial arts films in favor of proper martial arts forms, genuine weapons, and authentic Chinese styles.
During the 1950s, theHong KongandTaiwanfilm industries established two kinds of kung fu films. One kind of films were adaptations of the heroic stories that happened late in the Qing Dynasty and early inthe Republic of China(Huang Fei Hong movies are the representatives), and the other kind were "gods andghosts" kung fu films.