The famous movie star Zhang Ziyi has been hit by a run of fortune. Soon after being selected as a member of the Oscar Awards review committee, Zhang has now become part of the Golden Globe Awards review panel, as news was released from Hollywood during the annual feast which was sponsored by the Hollywood Foreign Press Association to raise fund for the world film industry. Zhang attended the feast on behalf of the International Film Association.
Zhang Ziyi, the young and vibrant Chinese actress, has seized the hearts of thousands of film fans with her charming smile, and from the day of her very first film, she has been placed at the core of international film circles…

  Little Biography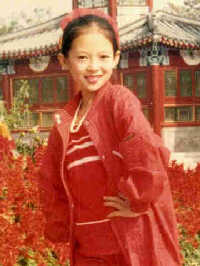 Little Zhang Ziyi
Zhang Ziyi was born in 1979 to an ordinary but studious family inBeijing. Her father is an economist, and mother is a kindergarten teacher. As a child, Zhang was very thin and small. One of her mother's colleagues, upon seeing the delicate girl, suggested that Zhang learn gymnastics. Hence her mother took her to the sports school in Xuanwu district. Unfortunately, no gymnastics class was open that year, so a teacher recommended that Zhangher learn dance. From then on, the eight-year-old girl began to study dance in the Youth Palace of Xuanwu District, and her enlightenment teacher was Tao Jin, a famous dancer.
Three years later, eleven-year-old Zhang Ziyi was admitted to the Affiliated Middle School of Beijing Dance Academy, starting her six-year-long professional study of dance. In 1994, she received the award for folk dance performance during the fourth All-China Youth "Peach and Plum Award" Dance Contest.
Though receiving a national award at such a young age, Zhang never felt complacent. Instead, over time, she strongly felt that for a dancer, the space for development was quite limited. She was not content with being just a dance performer or a dance partner of others. In search for a new footing with greater development space, she hit upon opera and film. Therefore, upon graduating from middle school (equivalent to high school) in 1996, she entered the Acting Department of the Central Academy of Drama.