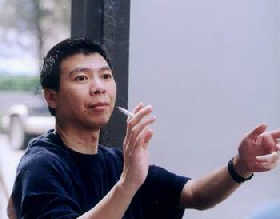 Feng Xiaogang made his debut as a director in his own right in 1994 with the film "Love Forever Lost". In recent years, he has made a name for himself in China as a director of successful film comedies.
Feng Xiaogang, fresh from the success of his new film "A World without Thieves," first gained international recognition with films such "Big Shot's Funeral" and "A Sigh." "Big Shot's Funeral" marks the first time that he has worked with western stars. However, it was the blockbuster "Cell Phone" he made in 2003 that properly promoted him into the world league of filmmakers.
Born in 1958, Feng Xiaogang is a native ofBeijingand the son of a professor and a factory nurse. He learned his craft not through film school (like many of the Chinese filmmakers). He worked his way up from the production side of television, and then started writing scripts. After eight years as a scene painter with an army theatrical troupe, he found a job in the art department of a TV station.
In 1991 he adapted a novel about contemporary Chinese immigrants' liv es in the United States, then went to New York to direct it, resulting in the highly popular television series "Beijingers in New York" aired in China in 1992. The TV series gave Feng Xiaogang what he had long wanted -- it established him as a director.
As the hottest commercial film director in China, Feng started to make a series of "New Year Celebration Movies" in 1996, with "Party A, Party B" (Jiafang Yifang, 1997) as the first, "Be There or Be Square" (Bujian Busan, 1998) as the second, "Sorry, Baby" (Meiwan Meiliao, 1999) as the third, and "A Sigh" (Yisheng Tanxi, 2000) as the fourth.
Unlike arthouse darlingsChen KaigeandZhang Yimou, Feng is a new species in China: an out-and-out commercial filmmaker whose goal is only to entertain the biggest audience he can reach.