Folk operas are a precious gem of the traditional Chinese culture. After films were introduced to China, folk operas combined the new forms of art and created a special opera cinema.A Dream of Red Mansions, directed by Cen Fan with the leading actress Xu Yulan in 1962, was regarded as the most influential opera film.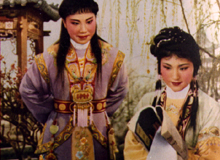 A scene fromA Dream of Red Mansions
The opera in the film is Yue opera, a folk art originated in Zhejiang Province in East China. The story was adapted from a famous ancient novel of the same title. The novel is one of China's most famous classical literary works and has been made into films and TV plays several times.
The opera film has a thread of the love between Baoyu and Daiyu. The girl Daiyu comes to her grandmother's home after the death of her mother. She falls in love with her cousin Baoyu at first sight,and so does Baoyu. They experience a lot of misfortunes and Daiyu dies and Baoyu becomes a monk in the end. The film was a result of efforts from film specialists and opera artists who used film tools to highlight the charm of opera arts.