In 1956, the Beijing Film Studio putNew Year Sacrificeadapted by Xia Yan from Lu Xun's novel of the same title to memorize the 20thanniversary of Lu Xun's death.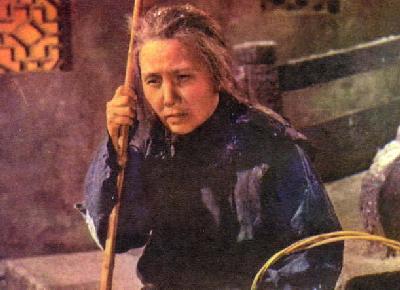 A scene fromNew Year's Sacrifice
In New Year Sacrifice, Mrs. Xianglin, the heroine, is a typical poor peasant woman who suffers from the oppression of the feudal ethical code. After her husband's death, she runs away from home on hearing that her merciless mother-in-law wants to sell her and is hired as a servant in the house of Master Lu the Fourth in Luzhen Town. There she suffers mistreatment, disdain, and discrimination. Before long, she is kidnapped and sold into a marriage with He Laoliu, an honest peasant. She falls in with her fate and gives birth to a son named A'mao. Unfortunately, her fate is changeable, and her husband is persecuted to death by a local landlord. Later, her son is killed and eaten by a wolf. In face of the two misfortunes, Mrs. Xianglin is driven out of her mind and acts like a madwoman.   
People say that she has committed a crime by marrying twice, and they urge her to contribute money at the temple's threshold to atone for her crime. She complies and gives her hard-earned money but she cannot rid herself of the discrimination against her. In the end, she becomes a beggar in the street and dies in an explosion of firecrackers on New Year's Eve. The film accuses in blood and tears the miseries of the laboring people in the old society and lashes out vehemently at the feudal ethical code.
Compact, well organized and executed in a profound style, the film keeps the severe, dignified style and the tragic mood that permeates Lu Xun's book while highlighting the cinematographic characteristics. It pays attention, for example, to the portrayal of the characters through their body movements and facial expressions and reveals in a simple way the characters' temperament by portraying mainly their visual images. The scene of Mrs. Xianglin chopping at the temple threshold is an addition to the original novel. The film was awarded the Special Prize at the Tenth Karlovy Very International Film Festival in 1957 and the Silver Cap Prize at the Mexico International Film Festival in 1958.