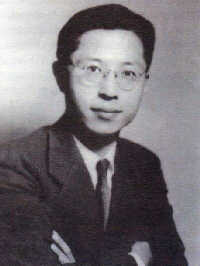 Eugene O'Neill is regarded as the premier playwright of theUnited States of America. He lived in the period when capitalism was rising and booming, andAmericaachieved the mythological wonders both in the area of technology and economy. O'Neill didn't focus on this superficial level of prosperity and affluence, but the essence of life beneath it. He strived to exhibit the incredible power that propelled everything behind life. He cared much for the fate of human being as a whole, and focused on the conflict between dream and reality. Meanwhile, he also tried to reflect the tragic fate of the people at the bottom of the society. With poetic imagination, he illuminated the darkest filthy dead-end in life. As a result, O'Neill was called the the conscience of the 20th century among the western critics.
Cao Yu is generally regarded asChina's Eugene O'Neill. He developed his melancholy and sentimental character since he was young. At the age of five, he was aware that the person he had been always calling Mom was his stepmother, while his own mom died long ago. Meanwhile, he found his father always smoking opium upstairs. Anyway, in a family like this, he finished reading theFour Great Classic Novels, namely,Dreams of the Red Mansion, Pilgrimage to the West, Outlaws of the MarshandRomance of the Three Kingdoms,at the age of ten, and when he was nineteen, he had already read the English edition ofthe Complete Work of Ibsen.As a matter of fact, he finished reading more than 250 world's masterpieces before he created his maiden workThe Thunderstorm.When he was fifteen, he participated in the Nankai New Drama Troupe, where he displayed his talent in performance. His director Zhang Pengchun was quite influential in the playdom, and Cao dedicated all his talent to the art of drama. When he was eighteen, he was deeply attracted by the glamour of drama and began to gestate his maiden work. Five years later, when he was 23 years old, he finished his maiden workThunderstorm,to be followed bySunrise(1936) andThe Wilderness(1937). All of those works showed his compassion to other people and his search for a spiritual happy life.
In an academic conference about O'Neill, Cao commented, I think he is a real warrior who dares to face life with no fear, as well as an upright artist with ideals. These are also the right words to describe Cao Yu himself.