As one of many Chinese local operas, Yongju Opera is performed inNingbodialect in East China'sZhejiang Province. While Yongju Opera's expertise is modern plays, it is also suited forQing Dynastycostume plays, as well as the cheongsam (traditional Chinese clothes) and modern costume plays. As it is close to modern life, the opera is very cherished and welcomed both the government and the public.
Since its birth, the opera has existed under many names. The opera was first performed as "Chuanke" Opera in Ningbo and its surrounding areas. The opera's name then became "Ningbo Tanhuang" in 1880 after a performance inShanghai. In 1924, the name changed to "Siming Opera" after "Ningbo Tanhuang" was prohibited in Shanghai. By 1938, the opera was called "Improved Yongju Opera" when it performed in Shanghai again in modern costumes. The final and current name "Yongju Opera" was finalized in 1950.
Unlike other traditional Chinese operas, Yongju Opera does not have an established set of roles such as Sheng or Dan (male and female characters in traditional Chinese operas, respectively). When Yongju was still in the period of "Chuanke", there were some basic Sheng, Dan and Chou (buffoon) roles, with the role of Chou dominating. All roles were performed by male artists,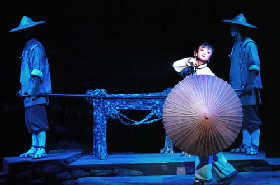 including the role of Dan. In the "Ningbo Tanhuang" period, the role system of "Chuanke" was retained. When the opera became "Improved Yongju Opera", a flexible and lax role system was formed. Since becoming Yongju opera in 1950, the opera has been learning from modern drama. The roles are very flexible and based on the personalities of different characters rather than a set pattern.
The Yongju Opera boasts about 90 different kinds of rich arias, which mainly evolved from folk songs, Ningbo Luantan (general term for Chinese melodies) and other local ditties. Yongju Opera's basic aria is good at portraying the complex emotions and thoughts of the leading characters.