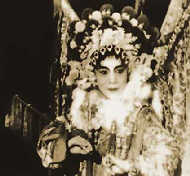 Yuju Opera, also calledHenan BangziOpera, Ou Opera and Tubang Opera, is one of the most popular local operas all over the country.
Its earliest written record can be traced back more than 200 years. At the end of theQing Dynasty(1644-1911), the opera became widespread acrossHenan Province. After the establishment of thePeople's Republic of China, it experienced rapid growth -- not only in the villages and cities of Henan Province but also throughout the country, includingTaiwan,Xinjiang, Gansu, Shaanxi, Hubei, Shanxi, Shandong, Hebei, Sichuan andJiangsu provinces, etc. Until the mid-1980s, Yuju Opera was the leading local opera genre in terms of the number of performers, troupes and audiences among the other 300 local Chinese operas.
Yuju Opera also boasts many different genres, including Xiangfu, Yudong, Shahe and Yuxi arias. Leading Yuju operas artists include the "Five Great Female Role Performers" (Chang Xiangyu, Chen Suzhen, Cu Lantian, Ma Jinfeng and Yan Lipin) representing five major styles of the art form. Xiaosheng performer ("young male character") Zhao Yiting, Laosheng performer ("elderly male character") Tang Xicheng and Heilian performer ("male character with darkish painted face") Li Sizhong are also established performers with distinct features.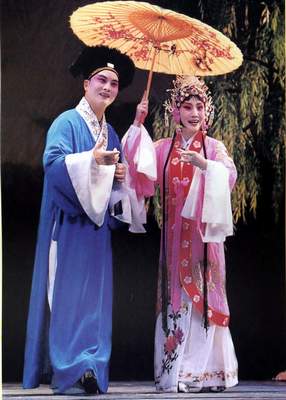 After the founding of the P.R.C. in 1949, the opera continued to thrive with the appearance of innovative modern operas, such as the "Five Performing Greats of Yuju Opera" (Gao Jie, Ma Lin, Wei Yun, Wang Shanpu and Liu Lanfang). Eleven Yuju Opera performing artists currently actively on stage (including Tang Yuying, Wang Qingfen, Hu Meiling, Li Jinzhi, Gu Xiurong, Chen Shumin, Li Shujian, Zhu Qiaoyun and Wang Hongli) have obtained the "Plum Blossom Award".