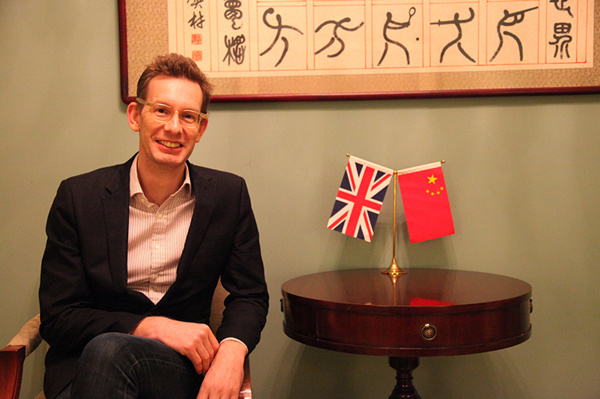 Nick Marchant, the art director of the British Council [Photo provided to Chinadaily.com.cn]
With the China-UK cultural exchange year 2015 just around the corner, a series of activities and performances are being intensively prepared. According to an exclusive interview with Nick Marchant, the art director of the British Council in China, by China Daily in Beijing in the middle of November, "next generation" would be a key word for the events ahead.
According to an agreement signed by the UK and China governments during Chinese Premier Li Keqiang's visit to London early this year, the two countries, with rich cultural heritage and distinctive characteristics in art, has planed 2015 as "China-UK cultural exchange year" when UK Season China will be held in five main Chinese cities.
"We use that term quite broadly, it's not just about the next generation of people. We are talking about the next generation of audiences, next generation of artists, next generation of delivery when it comes to the arts," Marchant said.
To get more young people engaged in the art activities, digitalization of the events is one important mission. Marchant stressed that the media or specific medium, through which the younger generation can get involved with art, is one aspect they need to pay much attention to. With the majority of young people getting art through digital platforms and electronic devices, the UK council is trying to make UK Season China more digitally dynamic.
Marchant gave an interesting example that vividly shows how "dynamic" digital methods can be when used to get people involved with art. In some contemporary performances in the UK, audiences can interact with the performance by using their phones and GPS tracking technology, experiencing a real moment of art creation at some particular points of the city, just as the original artists do. Similar ideas to encourage audience participation are also applied by a British musician in Hangzhou, China.
Art activities of UK Season China will focus on the cities of Beijing, Shanghai, Guangzhou, Chongqing and Wuhan, with additional events held in other cities with strong art advantages, such as Shenzhen and Chengdu, Marchant said.