Metal crafts, which mainly includecloisonné, filigree inlays, variegated copperware, tinwork, iron pictures, golden and silver accessories, etc, play a special role among China's arts and crafts.

 Cloisonné
Cloisonnéis a kind of enamelware where the design colors are separated by thin metal strips. Its major processes include making a red copper roughcast, forming patterns on it using thin copper strips, filling patterns with different colors, firing, and polishing. Cloisonnéintegratesbronzeandporcelain skills, and traditional painting and etching. It is the pinnacle of traditional Chinese handicrafts. Cloisonnéfirst originated inBeijing. The earliest piece ofcloisonnéwas made in theYuan Dynasty(1271-1368), while the best examples were produced during the Xuande reign (1426-1456) of theMing Dynasty(1368-1644). During the Jingtai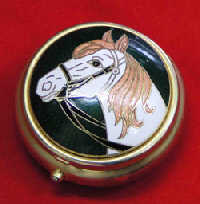 reign (1426-1456) of the Ming, handicraftsmen found a dark blue enamel that gavecloisonnéa gorgeous, solemn appeal, which is still used today.
During theQianlongreign (1736-1795) of theQing Dynasty(1644-1911), when pure copper was used as a roughcast, the art ofcloisonnéreached its pinnacle.
Beijingers still like to decorate their homes withcloisonnéarticles and young women adorecloisonnébracelets and earrings.Cloisonnéarticles also make great gifts.
People are attracted to its beauty and glittering thin copper strips.
In Beijing, most hotel shops and tourist stores sellcloisonnéarticles, which can be as big as sacrificial utensils, screens, tables and chairs, or as small as chopsticks, earrings, candy boxes, toothpicks and smoking paraphernalia. They are works of art with a practical value. Recently, handicraftsmen have developed a multi-coloring technique to makecloisonné, which has resulted in more refined and gorgeous products.